Ryse Confirmed At 30fps 900p For Xbox One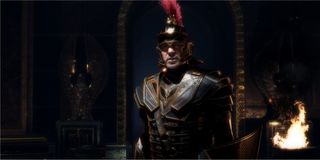 Well folks, this is it. The numbers are in and the resolution and frame rates are finalized for Crytek's Ryse: Son of Rome. The game is legitimately capped at 30 frames per second and a resolution of 1600x900. This is how Microsoft will start the next generation of console gaming for the Xbox One.
DualShockers spotted the confirmation from an interview Digital Foundry conducted with Crytek's CEO Cevat Yerli, where the head-honcho of the tech-heavy software company relished in the sub-par settings, surrounding the disappointment many gamers are feeling with words of encouragement and reason...
Well, for cinematic reasons I can't argue with the decision to go 30fps... it worked well for a game like Naughty Dog's The Last of Us, but then again that was a methodical, slow-paced title. I don't know how well 30fps will work when a game relies on smooth combat animations and transitions that players will need to look for when pulling off complex counter-attacks and combos. Then again, this is assuming that Ryse actually features a complex combat system and isn't just a series of QTEs.
According to Crytek producer Mike Read, the game is more than just a cinematic action title that relies on button prompts and Dance Dance Revolution timing acuteness. Read stated that the game is a real game and not just a QTE-fest. Until I see some more convincing footage (and time is running short for Crytek to provide such evidence) I'll believe that this is a generic hack-and-slash with a lot of QTE moments to relieve players of having to exercise acute button combination skills.
Anyway, this news about the game being relegated to 30fps after being downgraded from 1080p to 900p is not good news for Microsoft's console heading into its November launch. Coupled with the undeniably strong rumors of Call of Duty: Ghosts being downgraded on the Xbox One from 1080p to 720p where-as the PS4 rendition of the game will be native 1080p at 60fps, and now you have a situation where the Xbox One is not only looking second rate, but it's looking like it's coming in behind the curve in a bad way.
For gamers looking for true next-gen experiences and for a system that actually leaves something to the imagination, due to having power that needs unlocking, you'll probably do yourself a favor and pick up the Wii U instead, it has way more 1080p games running at 60fps than the Xbox One.
Your Daily Blend of Entertainment News
Staff Writer at CinemaBlend.