SMITE Offends Hindus, Catholics, Jews, With Porno-Style Depiction Of Kali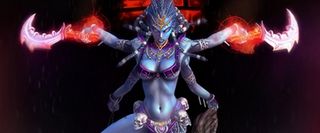 When it comes to religion you're always going to offend someone and create a vitriolic atmosphere when you take a stance that doesn't agree with someone else's stance. It's almost identical to the oil trade but you replace oil with religious principles.
Anyway, Hi-Rez Studios' upcoming game SMITE is about various gods from various religions doing battle in a multiplayer battle arena strategy environment. The game itself is being lambasted by a large majority of the Hindi community, the Catholic church, Buddhists and the Jewish community, all of which have come out in support of Hindus around the world due to the portrayal of the Hindu gods in the game, SMITE. In other words, the publicity this game is generating from the controversy will probably get Hi-Rez Studios' PR manager a nice raise and a bonus.
According to Rajan Zed, President of Universal Society of Hinduism, he's urging Hi-Rez to reconsider their portrayal of these revered gods and that they should have them removed from the game, especially Kali (pictured above) who was labeled as being depicted in a "pornographic style". The press statement also includes this noteworthy tidbit, saying...
The real denigration comes in the form of the images of Kali, who looks like a typical, slutty, femme-fatale. In this regards, it's obvious that none of the religious leaders play video games very often because the image above is somewhat tame compared to what some female vixens wear (or don't wear) in the world of video games (Ayumi's cheeks from X-Blades are waving at you right now).
In fact, I'm going to go ahead and point you in the direction of this NSFW segment of a video game boss from EA and Visceral Games' Dante's Inferno (a lot of you already know where this is going) in which Cleopatra is topless and spewing demon minions out of her nipples...in HD. Yes folks, that is real. Re-read the sentence again if it just whizzed over your head like a Charlie Sheen tweet.
I could also easily direct you to type in "Capcom Poison" into Google's image search but again, it contains a lot of NSFW content, so make sure you're not at work or browsing the images while the family is huddled around the PC. You might be in for a gender-bending surprise.
The point is, most video game female depictions are low-brow, base, not safe for work and catering to lonely, horny, teenage boys. Unfortunately, SMITE fits the description.
In this regards, it's hard to even justify SMITE's specific depiction of Kali as an appropriation of artistic vision, because in the actual game the characters are pretty small and character art-style plays second fiddle to the strategic combat and environmental atmosphere. It's also hard to justify SMITE's portrayal of Kali as necessary when the use of the character is simply to promote the game to horny young teenage boys.
Alternatively, Hi-Rez's sexed up rendition of Kali isn't too far off from how she's appeared in other forms of popular media, and most pictures are pretty much showcasing the goddess with a lot of skin on display and very little requirement of the imagination. It does make it difficult to blame Hi-Rez when all they're doing is re-imagining what's already there...or, what's not there.
The press statement, however, goes on to issue a more culturally poignant view of how this portrayal of their god could affect others, saying...
There are supposedly more than a billion Hindus the world around, with close to three million Hindu followers in the United States. It's the world's third largest religion behind Catholicism and Islam.
While I don't disagree with what Rajan Zed is saying, unfortunately SMITE is standard-fare in the world of gaming. Until more female gamers pretty much fight for equality and male gamers find some girlfriends amongst the fighting female gamer crowd, we'll continue to see all manner of female depictions in games portrayed as porno-style eye-candy. Also, all the scantily female fighters from Mortal Kombat, Street Fighter, Skullgirls, King of Fighters, BlazBlue, Guilty Gear and Dead or Alive say "Hi".
Your Daily Blend of Entertainment News
Staff Writer at CinemaBlend.