Sega Is Giving Away Three Classic Games For Free On Steam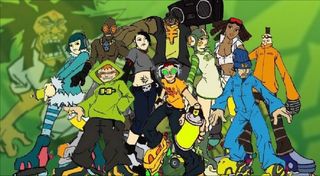 They don't say for how long they will be giving away free games, but Sega has made it known that they are giving away three free games in a Steam bundle right now, for an undetermined amount of time. The classics include Jet Set Radio, Hell Yeah! Wrath of the Dead Rabbit and the classic Golden Axe.
According to Techno Buffalo, Sega is giving away these games as part of their "Make War Not Love 3" bundle. It's labeled as a "Prize Bundle 1". The items in the bundle are listed over on the Steam store bundle page, where various games from Sega's celebrated history are available to acquire for free.
So how do you get your hands on these games? Easy, just click on the games in the list and there should be an option below the standard store price selection that says "Packages that include this game". There will be a package available listed as "Free" where you just have to click on "Install Game". This will register the games in the bundle to your account, adding titles Golden Axe, Jet Set Radio and Hell Yeah! to your library.
Take note that Golden Axe isn't actually listed in your library separately. You will have to scroll down and there should be an entry called "Sega Genesis & Mega Drive Classics". There's an entry within that listing that has Golden Axe there. If you click the "Install" button it will proceed to download the software, which clocks in at 105.2MB. You won't need a lot of hard drive space free and you won't need a beefy PC rig to play the Sega classics.
The other two games are also classics in their own right. Hell Yeah! Wrath of the Dead Rabbit is an over-the-top action-platformer. In fact, it's official description lists it as a "crazy action-adventure platformer...in Hell".
The other title, the very beloved Jet Set Radio, was one of the most celebrated games on the Sega Dreamcast. There are still a lot of gamers out there with fond memories of Sega's last console. The original Jet Set Radio had a very loyal fan base but it wasn't enough to save the Dreamcast.
The sequel ended up on the OG Xbox and was also equally beloved, it added in some multiplayer features and introduced some brand new playable characters into the mix.
It's cool to see that Sega is giving away free games. The highlight for this bundle is that there are no timed weekend deals going on here. You actually get to keep the games in your library. Oftentimes the free weekend deals are usually limited to just 72 hours, something that Activision does often and frequently with the Call of Duty franchise for the multiplayer portion. Sega is known for it as well with their Company of Heroes and Total War games. They switched it up and decided to just give the games away for free this time around. No strings attached.
It's probably best to grab the games now before the "Make War Not Love" sale ends.
Your Daily Blend of Entertainment News
Staff Writer at CinemaBlend.