Shadow Warrior Classic Is Free On Steam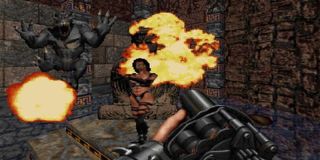 First-person shooter fans will find a free game waiting for them on Steam today. Shadow Warrior Classic, a 3D Realms-developed FPS released back in 1997, can be downloaded and played for no charge.
Shadow Warrior stars Lo Wang, a bodyguard for megacorporation Zilla Enterprises. After learning that the company wants to take over Japan with monsters from Hell, he embarks on a one-man crusade to stop them. He wields an vast arsenal of weapons, including a katana, shurikens, a railgun and sticky bombs.
The game utilizes the Build engine seen in Duke Nukem 3D. Although 3D Realms released the game a mere year after Duke, it had plenty of interesting innovations. Along with Blood, it was one of the first games to feature alternate firing modes for weapons. Furthermore, it allowed players to control turrets and vehicles - features that didn't become mainstream in shooters until years later.
The re-release comes days after Flying Wild Hog and Devolver Digital announced a reboot of the series for PC and next-gen consoles. The reboot, simply called Shadow Warrior, will revise Lo Wang's origin story. There will still be plenty of demons and over-the-top weapons, though.
Devolver Digital tweeted earlier today that Classic would be free for a limited time. However, in a follow-up tweet, they announced that the game will be permanently free. The company originally intended to release a limited number of download codes through Facebook but after hackers stole the keys, they decided to just give away the game to everyone.
Staff Writer at CinemaBlend.
Your Daily Blend of Entertainment News
Thank you for signing up to CinemaBlend. You will receive a verification email shortly.
There was a problem. Please refresh the page and try again.