Shadow Warrior Offers Stabby/Shooty Goodness On PS4 And Xbox One This Fall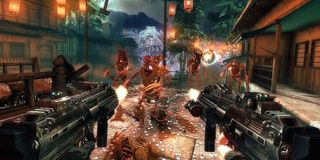 From gravel-voiced protagonists to global threats and hyper-realistic combat, it's safe to say that quite a few modern first-person shooters take themselves pretty seriously. That's why it's such a breath of fresh air when something like Shadow Warrior comes along, an off-the-walls shooter that will soon make its way to the PlayStation 4 and Xbox One.
With tongue planted firmly in cheek, the original Shadow Warrior released back in 1997 as a sort of spin-off to the Duke Nukem franchise, according to Flying Wild Hog level designer, Artur Maksara. The game's protagonist is named Lo-Wang, for crying out loud, so you know right off the bat that we're not going to be diving into complex political narratives and quadruple-crosses that leave you wondering who your friends are or who the real enemy is.
Shadow Warrior came from a simpler time in gaming history when shooters tended to strive for outlandish fun above all else. The game's remake first arrived on PC almost exactly a year ago, earning lots of praise for its humor and over-the-top action. Now it's slated for a fall release on the PlayStation 4, according to a recent PS Blog post, coming in both physical and digital formats.
See, I told you it was insane! From fast-and-furious gun fights to bloody katana battles, Shadow Warrior puts blazing fast action and frantic fun at the forefront and, according to Artur Maksara, those same principals have been kept intact for the PS4 release.
"The fun part was the tongue-in-cheek humor, the complexity of the level design, loads of Easter eggs and secrets," he said. "The unique thing was the katana; if ran out of bullets or just loved to fight with the sword, you could chop enemies to pieces using your ancient blade. Next thing is that all the people remembered the game because of Lo-Wang and his one-liners. These were the most important things that we decided to include in our re-imagined version."
Maksara goes on to say that the Flying Wild Hog version of Shadow Warrior boasts some additional dept, including a more complex story, new special powers and weapons customization. Above all else, though, he said that the sword fighting needed to be fun, and that the PS4 version of the game puts a unique emphasis on that brand of combat via touchpad support.
"Not only will you be able to chop the enemies to pieces more easily, you can also use the touchpad to perform combos and special moves," he added. "Swipe your finger in one of the four directions and press the trigger to launch a devastating attack or a crippling spell."
Running at 1080p in 60 glorious frames per second, look for Shadow Warrior to arrive on PS4 sometime in the coming months. The graphics won't be quite as sharp on the Xbox One, but you'll be able to pick it up for Microsoft's new machine, too.
Staff Writer for CinemaBlend.
Your Daily Blend of Entertainment News
Thank you for signing up to CinemaBlend. You will receive a verification email shortly.
There was a problem. Please refresh the page and try again.