Shroud Comes To Unity, Brings Dynamic Cloth Simulation With It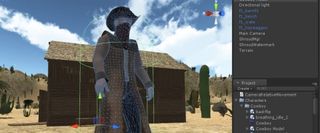 CloakWorks' middleware tool, Shroud, enables games and software to utilize dynamic cloth simulation. The idea behind the tool is that you can use it to bring clothing to life either realistically or artistically, and that same kind of cloth-simulating empowerment is now available for Unity.
Joe van den Heuvel, CEO of CloakWorks commented in the press release about the new suite, saying...
Some people don't quite see Unity as an industry leader, but that's okay. The Unity 4 is on the horizon and it brings with it a number of cool features that will not only cut costs of developing additional tools for a game, but it also enhances a lot of standard features so it's cheaper to make higher quality games.
I also love that a lot of the middleware affiliates for Unity Technology's highly regarded game engine offer free trials, and it's no different with the new Shroud suite. You can test out the tools for your game and see if it fits with what you're trying to accomplish, either artistically or mechanically, and if you dig the toolset then you can lay down some real cash using the Unity Asset Store.
I also love the fact that to be such a high quality game engine the guys and gals at Unity let developers, designers and enthusiasts purchase only the things they need to bring their creation to life. The Unity license isn't overbearing or burdening like some AAA game engines where you get a lot of code, utilities and middleware suites you don't need. With the asset store you can pick and choose only what your game requires.
The Shroud is currently available for the Unity Engine and is compatible with games running on Windows, PC, Mac and iOS.
You can check out the free trial of Shroud right now or pick up the full version for $400. To learn more feel free to visit the Official Website.
Staff Writer at CinemaBlend.
Your Daily Blend of Entertainment News
Thank you for signing up to CinemaBlend. You will receive a verification email shortly.
There was a problem. Please refresh the page and try again.