SimCity Adding Servers To Fix Launch Issues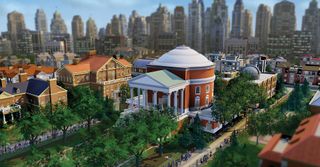 The launch of Maxis' SimCity reboot has been plagued by server problems, with many gamers unable to play at all. Today senior producer Kip Katsarelis pledged that they're working hard to fix these issues.
"We have been overwhelmed by the outpouring of support and enthusiasm from our fans which has made it even more upsetting for us that technical issues have become more prominent in the last 24 hours," Katsarelis said on the EA forums. "We are hitting a number of problems with our server architecture which has seen players encountering bugs and long wait times to enter servers. This is, obviously, not the situation we wanted for our launch week and we want you to know that we are putting everything we have at resolving these issues. "
SimCity allows players to group together into regions. Cities can share or trade resources. Furthermore, the characteristics of one city (such as pollution) will affect its neighbors. While the game can be played solo on private regions, players need to be connected to Origin's servers regardless. Thus, if the servers are slammed (which they are right now), players can't play the game at all. Furthermore, losing connection to the server can cause players to lose progress in their game.
Katsarelis says that Maxis is adding more game servers this week to alleviate the overcrowding. They're also rolling out a stream of bug fixes. He said that Maxis is working 24/7 on patching the game.
While many gamers are experiencing issues with the game, apparently not everyone is. The luckier players created over 38 million buildings in the game and 7.5 million kilometers of road. They've also made 40 million sewage pipes so I guess the game's launch has been shitty for everyone (rimshot).
The server issues have been roundly criticized by press and gamers alike. Polygon, who gave one of the most positive reviews of the game, actually lowered their review score by 15 points due to the connectivity problems.
Your Daily Blend of Entertainment News
Staff Writer at CinemaBlend.
Your Daily Blend of Entertainment News
Thank you for signing up to CinemaBlend. You will receive a verification email shortly.
There was a problem. Please refresh the page and try again.