Skullgirls Releases New Skins DLC On PSN Today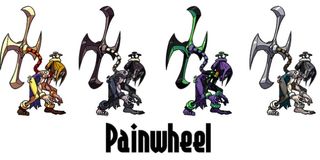 Skullgirls, the indie fighting game from Lab Zero Games, is getting a bit more colorful today with the release of color packs for each of the game's eight playable brawlers.
If Skullgirls is ringing a few bells, it's because the game's been receiving a lot of attention lately. After some issues were resolved with the fighting game's former publisher, the gang at Lab Zero recently took to Indigogo in an effort to fund a new DLC character. The campaign went surprisingly well, however, funding five additional characters instead.
While three of those new characters were pre-determined by the Indigogo campaign, the remaining two have been put up to a vote. The first voting series came to an end recently with fans selecting Eliza as the new brawler and the second and final voting process should be wrapping up any day now.
Before any of those new characters see the light of day, however, Lab Zero has finally released Skullgirls' first piece of additional content on the PlayStation Network today, including a collection of four new color pallets for each fighter for one buck a pop. Or, if you want to bundle all eight sets of colors together, you can get the whole shebang for a discounted $5, which will also include an additional color at no extra charge for each of the game's characters.
For a better look at the entire collection of new color schemes, head on over to the PlayStation Blog. There, you'll also find a scattershot of Skullgirls info including an update on the DLC design process, a brief look at Eliza and a new stage for the game, as well as details on the upcoming EVO 2013 tournament.
As for the game's first DLC character, Squigly, Lab Zero CEO Peter Bartholow said the team plans to have her in fighting shape sometime this summer.
Your Daily Blend of Entertainment News
Staff Writer for CinemaBlend.
Your Daily Blend of Entertainment News
Thank you for signing up to CinemaBlend. You will receive a verification email shortly.
There was a problem. Please refresh the page and try again.