Skylar And Plux: Adventure On Clover Island Will Be Coming To PS4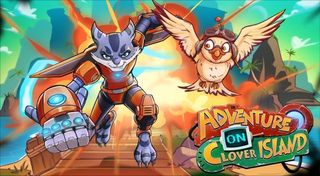 The Unreal Engine 4-powered platformer from Swedish design studio Right Nice and publisher Grip Digital has been announced as a PS4, Xbox One and PC title due for release late in 2016. The name of the game is called Skylar & Plux: Adventure On Clover Island and it's very similar to the likes of Jak & Daxter or Ratchet & Clank.
Over on the official PlayStation Blog they unveiled some screenshots and gameplay details for the upcoming title. There's also a gameplay trailer that they recently released as well, which you can check out below.
The marketing manager for Grip Digital, Petr Ciesarik, explained that the game is a throwback to classic 3D platformers that greatly occupied the PSX and PS2 many years ago. The developers were obviously inspired by Sony classics like Jak & Daxter and Ratchet & Clank. The YouTube comment section is full of gamers pointing out the similarities between the classic platformers and the upcoming new IP from Right Nice Games.
In Skylar & Plux players will assume the role of Skylar, an experimental warrior with a robotic arm. Skylar, the cybernetically enhanced cat-type creature must battle against the evil forces of CRT in order to save her home world from complete destruction. Plux is the quirky sidekick that tags along with Skylar, offering comic relief and possibly some feathery support along the way.
Despite the game having two main characters jumping, fighting and exploring their way through Clover Island, the title is only a single-player adventure. Players will hop, bounce and run through a variety of colorful environments as they face off against CRT forces and avoid plenty of obstacles along the way.
Like any good combat-oriented platformer, Skylar & Plux will feature the ability to upgrade Skylar's weapons and equipment. Players will be able to give her a magnetic glove, a jetpack and much more as she encounters more difficult challenges in the latter levels.
The game was unveiled during this year's Game Developers Conference and the developers are hoping to rekindle some of the nostalgia and enjoyment that gamers experienced during the heyday of 3D platformers with titles like Croc and Crash Bandicoot. They have some new-school graphical elements only possible in the Unreal Engine 4 to help bring the visuals to life on the PS4, and they offer new-school features like the augmentations and upgrades to give gamers something to look forward to as they progress through the game or seek out replayability from the game.
There will be a wide variety of levels and challenges present in Skylar & Plux, including visiting beaches, volcanoes, freezing mountains and deserts. PS4, Xbox One and PC gamers can look for the title to launch sometime later this year. They don't say if the game will be a digital-only release or if it will arrive on store shelves, but this seems like the kind of mid-budget title that will only appear on digital distribution outlets.
Your Daily Blend of Entertainment News
Staff Writer at CinemaBlend.