Skyrim: The Forgotten City Mod Adds Time Travel And An Entire City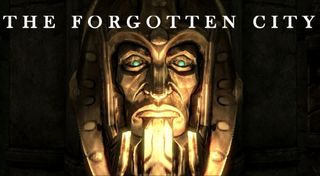 Modder The Modern Storyteller is finishing up a rather large-scale mod for Elder Scrolls V: Skyrim. The mod is called The Forgotten City and it features 30 different interactive NPCs, time travel and an all new city to explore.
Over on their official website they announced that their mod had become one of the top curated items on ModDB, where many gamers and gaming websites have been circling the page due to its most recent update. You can see what the mod looks like with the trailer below.
The Forgotten City Trailer - Mod DB
As mentioned in the trailer, the mod for the game features voice actors from North America, Britain, France and even Australia. This Skyrim overhaul also contains more than 1,200 lines of spoken dialogue, helping flesh out more than 30 different interactive characters for players to question, examine, follow and even kill.
New characters and locations wouldn't make the mod half as interesting unless it also came with brand new enemies for players to engage.
The mod also promises a non-linear adventure centered around a murder mystery. Players will attempt to solve the mystery using their wits and cunning and they'll do so while traveling through time.
In my humble opinion the time-travel mechanic seems to be one of the more interesting elements of the Skyrim mod. They don't mention how it works or in what way the time traveling is implemented but it is stated that players will travel back and forth through time. Usually this kind of things can be very taxing on developers and modders alike because if the game world changes based on the progression or regression of time it means they have to allocated time to make two different versions of the same assets: one for the future and one for the past.
As mentioned, it wasn't clarified in the post exactly how the time traveling would work, so it's completely possible that moving through time could be something as simple as going forward or backward by a few days, hence there may not be a serious requirement to overhaul any of the game's assets.
One of the more interesting things about this is how much attention a conversion mod for Skyrim is getting even though the game is now more than four years old. It really speaks to the power of the modding community and how much people will continue to put effort and time into the game.
While Bethesda's efforts to monetize the Skyrim modding base didn't turn out so great, the community has moved back into the design phase of their ideas and will continue to pump out new content for the game regardless at this point. You can look for The Forgotten City to launch for Skyrim on PC starting October, later this year.
Your Daily Blend of Entertainment News
Staff Writer at CinemaBlend.