Skyrim PS3 DLC: Dragonborn, Dawnguard, Hearthfire Release Dates Announced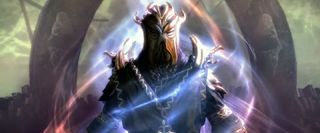 Today Bethesda re-confirmed their previous commitment to bring Elder Scrolls V: Skyrim's downloadable content to the PS3 this month. They also provided specific release dates for the Dawnguard, Dragonborn and Hearthfire add-ons.
Dragonborn will be the first DLC to hit the PS3. This add-on adds the island of Solstheim, located between the provinces of Skyrim and Morrowind. Players must battle a range of new enemies, including the first Dragonborn. You'll be able to get this content on Tuesday, February 12th. Patch 1.8 for the game will be released prior to that.
On February 19th, Hearthfire will debut on the PS3. This is a smaller add-on that focuses on home-building. Players can purchasea plot of land in the game world and then build their own custom estate. They'll then have to defend it from attackers.
Dawnguard will complete the DLC onslaught on February 26th. In Dawnguard, a group of powerful vampires is trying to blot out the sun and take over Tamriel. Players can side with these blood-suckers or an order of hunters committed to hunting them.
To compensate PS3 owners for the long wait, Bethesda will be offering each DLC pack at a discount. For the first week after each add-on is released, they'll be marked down by 50% on the PlayStation Store.
The release dates above only apply to North America. Bethesda is still finalizing certification for Europe. They hope to have specific date for that territory soon.
Update: Bethesda has announced the release dates for Europe.
Your Daily Blend of Entertainment News
Staff Writer at CinemaBlend.