Social, Mobile Game Ads Have More Click-Throughs Than Normal Ads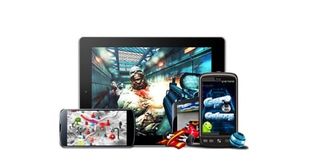 A leading social and mobile advertising solution for social and mobile games has released some new data on social and mobile advertising. The data from Mediabrix breaks down some interesting numbers and according to the data social, casual and mobile games make more money via online ads than standard advertising.
Interestingly enough, social and mobile game value exchange ads see an average click-through rate of 11%, which is 100 times higher than standard ads. According to eMarketer's research data, the standard ad only manages a CTR of 0.10%. Rich media ads only have an average CTR of 0.12% and Facebook ads vary from 0.3% and 0.11%.
Those are some interesting figures given that one of the biggest problems of getting websites to make money via driving traffic is getting those CTRs high enough to warrant a website or portal profitable. According to Mediabrix the ad engagement for social and mobile games is around 20%, where-as Facebook AER ranges from 0.7% and 3.64%, as noted by eMarketer.
In simple terms: banner ads from other portals and social networking sites don't drive as many CTRs or ad engagements from users as banners and/or ads for social and mobile games.
Ari Brandt, CEO and Co-founder, MediaBrix commented about the data, saying...
In even simpler terms: games incite reactions that cause people to want to click through. Then again, if you're at work and you're bored and see you an ad or trailer for an online or mobile game that you can hop right into via a few simple clicks, I can easily see how such banners and advertisements could attract users.
One thing worth noting, however, is that a representative for Mediabrix did note that the ad engagement and click-through rates do not apply for ads, trailers or banners for games within the mid-core and hardcore sectors. It would be interesting to see what the data looks like comparing core games to casual/mobile games and to normal, non-gaming related advertisements.
Furthermore, Mediabrix reports that by 2015 there will be more than 158.9 million mobile gamers and there are ripe opportunities for companies to cash in on this audience.
It'll also be interesting to see how core mobile technology like Nvidia's Project SHIELD or Razer's Fiona do with driving CTR or ad-engagement with their mobile devices.
You can learn more about the data or get a rundown of comparisons by visiting the official MediaBrix website.
Your Daily Blend of Entertainment News
Staff Writer at CinemaBlend.