Sony Online Entertainment Bought By Another Company, Could Make Xbox Games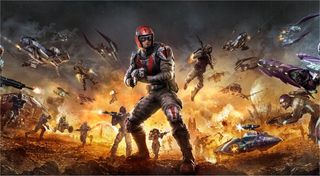 Sony Online Entertainment announced today that they are no longer Sony Online Entertainment. They've been acquired by a venture capitalist investment firm known as Columbus Nova. Under the new ownership of said investment firm, SOE's name is changing to Daybreak Game Company.
The news comes courtesy of an announcement on the SOE forums where they rolled out the news to some fanfare, a lot of questions and a bit of hope.
As stated in the announcement...
I'm sure that last part makes a lot of gamers not playing games on PC or PS4 very happy. The idea that something like H1Z1 or DC Universe Online could arrive for Xbox gamers is probably a dream come true for plenty of console-specific gamers. Heck, this even opens the door for something like Planetside 2 finding its way onto the Xbox One... assuming that's something Daybreak Game Company is willing to pursue and if it's something the Columbus Nova group wants them to pursue.
The post goes on to verify that things will continue as usual, explaining that the only thing that will change is the new opportunities that Daybreak will be allowed to explore...
This is definitely good news for Xbox and mobile game players, however it takes away a large part of Sony's dominant profile for exclusive online games.
Titles that were previously reserved to PC and the PS2, PS3 and PS4 will now be eligible for potentially sharing space on Xbox platforms. Of course, this definitely helps give Microsoft a bit of leverage in the online and diverse IP department, given that they could use all the help they can get when it comes to expanding their software library.
As for the current state of SOE's titles and how that changes games in operation... I'm curious to see how that's all handled. So far it sounds as if the company will stick to making online games, but whether or not there will be any changes in the microtransaction system or the way games are handled monetarily remains to be seen.
I'm curious how this acquisition will affect games in development like Everquest Next? And this also makes me curious if Daybreak will revive older IP for newer platforms? Could we see Everquest games remastered for the Xbox or mobile platforms? I guess we'll find out as Daybreak begins rolling out their roadmap for software services.
Your Daily Blend of Entertainment News
Staff Writer at CinemaBlend.