Splinter Cell: Blacklist System Requirements Released, Game Is Now Gold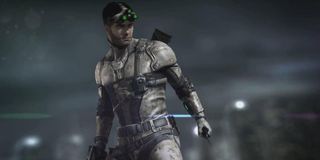 Ubisoft has wrapped up development on their action-stealth game Splinter Cell: Blacklist. Now that the game is gold, they feel comfortable releasing the official system requirements for the PC version.
The system specs were released through Ubisoft's forums (via Blue's News). In that post, they point out that Steam's listed requirements were actually wrong. The game needs a processor of 2.13 GHz or higher, rather than 2.53 GHz. Here's the full list of requirements:
Minimum:
OS:Windows® XP (SP3) / Windows Vista® (SP2) / Windows® 7 (SP1) / Windows® 8
Processor:2.13 GHz Intel® Core™2 Duo E6400 or 2.80 GHz AMD Athlon™ 64 X2 5600+ or better
Memory:2 GB RAM
Graphics:512 MB DirectX® 10–compliant with Shader Model 4.0 or higher
DirectX®:9
Hard Drive:25 GB HD space
Sound: DirectX 10–compliant DirectX 9.0c–compliant
Additional:Peripherals Supported: Windows-compatible keyboard, mouse, headset, optional controller (Xbox 360 Controller for Windows recommended)
Recommended:
Processor:2.66 GHz Intel® Core™2 Quad Q8400 or 3.00 GHz AMD Phenom™ II X4 940 or better
Memory:4 GB RAM
DirectX®:11
Hard Drive:25 GB HD space
Sound: (5.1 surround sound recommended)
Other Requirements:Broadband Internet connection
Additional:Peripherals Supported: Windows-compatible keyboard, mouse, headset, optional controller (Xbox 360 Controller for Windows recommended)
Blacklist is the first game completed by Ubisoft Toronto. The four-year-old studio is led by Jade Raymond, who you might remember from her days as an Assassin's Creed producer or from the creepy shrine of photos in your basement. Blacklist senior producer Alex Parizeau told IGN that Ubisoft's Montreal, Shanghai, Bucharest and Pune studios also contributed.
"We brought together an amazing team from across the industry who went all in to deliver the biggest game in the series," Parizeau told the website. "I know I speak on behalf of the entire team when I say we can't wait to get the game into the hands of our fans."
Now that Ubisoft Toronto has finished Blacklist, they'll presumably focus on Rainbow 6: Patriots. Patriots, a squad-based shooter, underwent numerous personnel and design changes since it was announced in 2011. Last we heard, Ubisoft had pushed the game into next-generation. If they're serious about reviving the Rainbow 6 series, I'd think that Ubisoft Toronto would be getting back to work on that game right away.
Blacklist continues the storyline of the Splinter Cell series. Covert agent Sam Fisher's previous employer, Third Echelon, is no more. He now leads a new organization called Fourth Echelon. The campaign was the subject of some early fan backlash due to the perceived focus on action and the new voice actor for Sam Fisher.
Long-time series fans may be happier about the multiplayer situation, though. For Blacklist, Ubisoft Toronto is bringing back the old Spies vs. Mercenaries modes. One team will play heavily armed soldiers and must guard objectives from a team of stealthy operatives.
Staff Writer at CinemaBlend.
Your Daily Blend of Entertainment News
Thank you for signing up to CinemaBlend. You will receive a verification email shortly.
There was a problem. Please refresh the page and try again.