Star Trek Online Delta Recruitment Makes Game More Inviting To Newcomers In April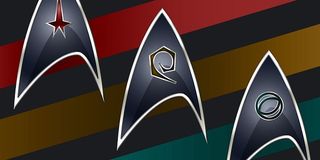 One of the most daunting aspects of jumping into a new MMO is the feeling that you're a tiny, insignificant newcomer in a universe that has grown large in scale and barely notices your arrival. The folks behind Star Trek Online might have come up with a perfect solution to that problem, making the game more inviting to fledgling captains with the upcoming Delta Recruitment event.
Let's face it, MMOs can be intimidating games, even if you start out in the game as soon as it initially launches. There's loads of content to tackle from the get-go but, if you're an early adopter, at least you're part of a community of folks tackling the same mountain of content at the same time, facing the same challenges.
Once a game has a few years' worth of expansions out and a large chunk of players has moved into super late-game content, diving in as a newbie can appear a lot less appealing. In games like World of Warcraft or Lord of the Rings Online, the idea of starting out at level one when everyone else seems to be level 90 isn't amazingly inviting.
Star Trek Online, however, may have cracked that particular code, creating a special event designed specifically to introduce new players to the game. It's called the Delta Recruitment Event, and it basically boils down to an experience-boosting quest to higher levels without having to grind quite as much.
Whether you're joining Starfleet, the Klingon Defense Force or the Romulan Republic, the Delta Recruitment event will run from April 2 through May 21 and all characters made during that period of time will earn a "host of new benefits and rewards to aid them in their leveling experience," according to the official announcement.
To be clear, the character's special benefits will continue throughout the game and into the late portion of the story, but you can only gain access to those Delta perks during this limited window.
"Delta Recruits are specifically designed to rapidly close the gap that exists between new characters and characters that have been in Star Trek Online for years," reads the announcement. "It's the most new-player-friendly the game has been in almost two years, and the perfect time to join the community of Star Trek Online."
According to this new bit of lore, Delta Recruits will be contacted by a time traveling benefactor with the sole purpose of preparing them for the coming Iconian War. Players will be given new information in a set of quests that run parallel to the regular game, with all of those extra opportunities easily managed through a new UI element that appears near the mission tracker.
Along with some fresh missions and unique opportunities, you'll get stat boosts and other heightened rewards throughout your Delta trials, preparing you more quickly to join the late game fray. It's a pretty great idea, actually, so here's hoping it brings a bunch of new recruits to Star Trek Online.
Staff Writer for CinemaBlend.
Your Daily Blend of Entertainment News
Thank you for signing up to CinemaBlend. You will receive a verification email shortly.
There was a problem. Please refresh the page and try again.