Star Trek Online Updates With Free Legacy Of Romulus Content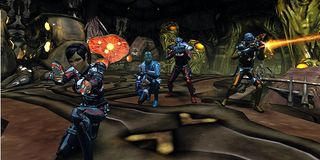 Now that J.J. Abrams' second movie in the Star Trek universe, Into Darkness, has boldly gone into movie theaters, it seems only appropriate that Star Trek Online fire back with its first ever expansion pack, Legacy of Romulus.
From Perfect World Entertainment and Cryptic Studios, Star Trek Online is a free-to-play MMO offering players the chance to jump into the role of a Star Fleet member and adventure through the universe in search of alien life, adventure and a bit of intergalactic warfare from time to time.
The game's first expansion pack, Legacy of Romulus, has now gone live, giving players even more content to dive into free of charge. For the first time ever, this DLC lets players take on the role of a Romulan or Reman character to play through a story-driven story arcs written "exclusively from the Romulan Republic's point of view." Players will discover all sorts of new details about the destruction of Romulus, as well as pilot new Romulan ships and destroy new enemies.
As an added bonus, the Klingon faction will be updated with the Legacy of Romulus content, offering a full level 1-50 progression for the class.
"Legacy of Romulus is the first Star Trek Online expansion and we are pleased to be able to offer players and fans alike a chance to play as a member of the Romulan Republic during this crucial time," said Cryptic Executive Producer Daniel Stahl. "It's an exciting time in Star Trek Online and, with Romulus and Remus gone, players need to rise up and revolt against the oppressive Tal Shiar regime."
I'm going to assume that all of you Trekies out there know what the heck Stahl was talking about. As for me, I can't really argue with more free content, whether I follow the lore or not.
To jump into the game and enjoy the Legacy of Romulus expansion starting today, visit the Star Trek Online official website.
Staff Writer for CinemaBlend.
Your Daily Blend of Entertainment News
Thank you for signing up to CinemaBlend. You will receive a verification email shortly.
There was a problem. Please refresh the page and try again.