Star Trek Online Will Be Free To Play Soon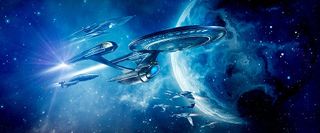 Soon it will be cheaper than ever to explore space, the final frontier. Cryptic Studios revealed today that they'll be switching the MMORPG Star Trek Online to free-to-play later this year.
"In addition to seeking out new life and exploring strange new civilizations, part of our continuing mission for Star Trek Online is to expand and improve," said Jack Emmert, CEO of Cryptic Studios. "Transitioning to a free-to-play model is a natural way to share all we've built with a broader community of players and we couldn't be more excited."
By the end of 2011, players will be able to download and play STO for no charge. However, the feature set for free-to-play users will be limited somewhat. For example, you'll have a small inventory and fewer character slots than someone who pays the $14.99/month subscription fee. The difference between being a paying ("Gold") member or a free ("Silver") member is explained via this chart. Premium features can also be purchased a la carte through a store available in-game or on the web.
This business model is becoming more and more common in the MMO market. Cryptic Studios made a similar move with their super hero MMO Champions Online. Many other companies' titles, such as Dungeons and Dragons Online and Age of Conan, have also switched to a free, microtransaction-based business model. It seems to have helped all those games stay afloat, too.
Cryptic hasn't provided a specific date for STO's change to free-to-play. They say that a closed beta will be coming soon.
Staff Writer at CinemaBlend.
Your Daily Blend of Entertainment News
Thank you for signing up to CinemaBlend. You will receive a verification email shortly.
There was a problem. Please refresh the page and try again.