Lord Of The Rings Online Heads To Helm's Deep In Upcoming Expansion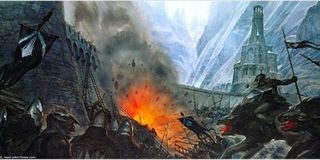 The Lord of the Rings Online is gearing up to unleash its fifth major expansion this year as Warner Bros. Interactive Entertainment announces the impending arrival of Helm's Deep, featuring loads of new missions, a continuation of the main game's story and the largest battle ever to appear in-game.
You remember that awesome battle at the end of The Lord of the Rings: The Two Towers, where humans and elves defended that old castle against a massive attack from Sauron's forces? Well now you have the opportunity to live out that battle yourself as Turbine prepares to launch the Helm's Deep expansion for its free-to-play MMORPG, The Lord of the Rings Online.
While the Riders of Rohan expansion introduced mounted combat to the game earlier this year, Helm's Deep follows up with a hugely important conflict from the Lord of the Rings story, focusing heavily on big battles and impending all-out war.
Helm's Deep will continue the LOTRO Epic Story further into Rohan, giving players the chance to join the battle for Helm's Deep, as well as advance their characters to the new level cap of 95.
"With Helm's Deep, we're bringing the War of the Ring to players on a monumental scale," said Turbine Executive Producer Kate Paiz. "Our team is thrilled to create another iconic moment in Middle-earth and put players in the center of the action."
In the new expansion, players will be able to enlist as a soldier in the Battle of Hornburg before working their way up in the ranks, battle after battle, in order to finally lend a hand at Helm's Deep. All new areas will be open for players to explore, including the capital of Edoras, Dunharrow and Hornburg, as well as iconic characters to interact with like Aragorn, Eowyn and Eomer.
Turbine promises lots more information on the Helm's Deep expansion leading up to the content's release, expected sometime later this year. For more details or to join in on the free-to-play fun, visit the Lord of the Rings Online official website.
Your Daily Blend of Entertainment News
Staff Writer for CinemaBlend.
Your Daily Blend of Entertainment News
Thank you for signing up to CinemaBlend. You will receive a verification email shortly.
There was a problem. Please refresh the page and try again.