Star Wars Battlefront's Release Date Leaked By Official Website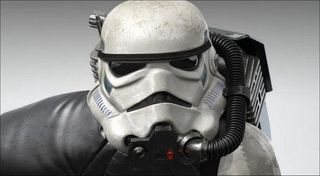 The release date for Star Wars: Battlefront may have been leaked from its official website. The source code for the new shooter from EA and DICE apparently mentions a specific launch day.
According to an article on Gamespot, they noted that...
If you visit the website in question – the official Star Wars Battlefront site – and if you click on the "view page source" after right clicking on the site, you can press ctrl + f and type in "November 17" into the search field and absolutely nothing pops up. It is possible that DICE and EA removed the mention from the website code until they plan on officially unveiling the release date.
However, if the November 17th, 2015 is legit that would put it just ahead of the December release of the Star Wars movie set to arrive in theaters. The 17th also falls on a Tuesday, the day that North American publishers generally release games. So, despite the evidence disappearing from the public's view, the date could turn out to be legitimate for Star Wars: Battlefront.
The game will be unveiled in some sort of capacity on Friday with the big Star Wars event. Glimpses of the game could be seen in the latest teaser trailer for Star Wars: The Force Awakens. We see some Storm Troopers riding fast and furious on some speeders in the forests of Endor while a giant AT-AT takes a mean missile right to the face. The scene is really brief, though.
Even though there's so very little to go on, one of the leaked screenshots of a scout on a speeder bike got some people very excited about Star Wars: Battlefront's visuals. Given DICE's penchant for going very high-end on the graphical front with the Frostbite Engine, it's not impossible to imagine that Battlefront could be a visual masterpiece. However, in the same vein, we've also been down the route where some in-engine teasers are made to tantalize and wow gamers while the actual gameplay itself is nowhere near as good as the original promotional material.
Gamers should be well acquainted with the downgrades that some games have undergone throughout eighth-gen, with Watch Dogs being the most notable. We'll be able to see exactly what EA and DICE have in store when the teaser goes live tomorrow.
Your Daily Blend of Entertainment News
Staff Writer at CinemaBlend.
Your Daily Blend of Entertainment News
Thank you for signing up to CinemaBlend. You will receive a verification email shortly.
There was a problem. Please refresh the page and try again.