Star Wars: Knights Of The Old Republic Now On iPad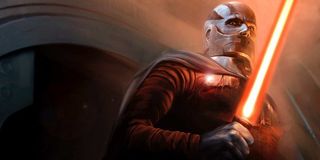 Star Wars: Knights of the Old Republic made its debut on mobile devices today. Aspyr Media has ported the single-player BioWare RPG to the iPad.
KOTOR is set thousands of years before the Star Wars films. The Sith Empire, led by Darth Malak, is waging war against the Galactic Republic. The player is a Republic soldier who will play a pivotal role in the outcome of the war. They'll travel to iconic locations like Tatooine and Kashyyyk and recruit droids, Wookies and other colorful characters to their cause.
Knights was showered with (deserved) praise back in 2003 when it debuted on Xbox and PC back in 2003. It made quite a few "Games of the Year" and "Best Games of All Time" lists. It ultimately spawned an Obsidian Entertainment-developed sequel Knights of the Old Republic 2 and an MMO called Star Wars: The Old Republic. Perhaps Aspyr will port the former to iPad if KOTOR sells well.
To make the game better suited toward the iPad, Aspyr overhauled the user interface. IGN's review says that some of the menus are a bit hard to navigate and that movement is difficult. However, they were pleased on the whole with the game and said that the pause-and-play combat translated well to the tablet.
The $9.99 game, purchasable here, can be played on iPad 2 or newer devices. The download is 1.98GB, though Aspyr says you should have about 2.5GB of free space before buying it.
Image 1 of 5
Image 2 of 5
Image 3 of 5
Image 4 of 5
Image 5 of 5
Staff Writer at CinemaBlend.
Your Daily Blend of Entertainment News
Thank you for signing up to CinemaBlend. You will receive a verification email shortly.
There was a problem. Please refresh the page and try again.