Star Wars: The Old Republic Might Come To Mac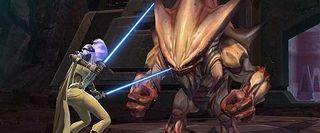 BioWare's MMORPG Star Wars: The Old Republic launched on the PC a couple weeks back. Mac gamers have been left twiddling their thumbs but BioWare co-founders Ray Muzyka and Greg Zeschuk said that they may get a port of the game somewhere down the line.
"We know there's a big Mac audience of BioWare fans ... we know that's an important and large audience. And we want to serve that audience," BioWare co-founder Ray Muzyka told Massively.
"I'd say 'not yet'," added Zeschuk. "We've done a lot of Mac ports before of our games. We haven't announced any details yet for The Old Republic, but we know that's an important and large audience."
The BioWare heads declined to give a concrete time table for a Mac Old Republic. After all, they just released the PC version of the game and still have a lot to work out on that front.
"That's definitely one of the things we're looking at next," said Zeschuk. "We want to get this launch under our belt and everything stabilized and happy, and then we'll look at other platforms, and that's obviously one of the first ones."
Old Republic launched on December 20th in North America and Europe.
Staff Writer at CinemaBlend.
Your Daily Blend of Entertainment News
Thank you for signing up to CinemaBlend. You will receive a verification email shortly.
There was a problem. Please refresh the page and try again.