SteelSeries Unveils Apex And Apex Raw Keyboards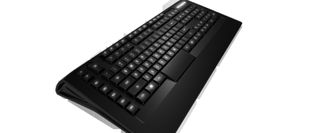 2013 is here and we've already got lots of great stuff on the horizon, including some great games and in the case of SteelSeries, some great gaming peripherals. The company has unveiled two new gaming keyboards at this year's Consumer Electronics Show called the Apex and the Apex Raw. So what's so special about these new gaming boards? Well, they have a deep layer of customization and precision response timing to make them top-end choices for hardcore gamers.
The Apex and Apex Raw feature enhancements for low-profile keys and has been redesigned specifically for quick-menu buttons and easy-access macros. Both the Apex and Apex Raw make it convenient for gamers to get done what they need to get done and at a very reasonable prices.
Bruce Hawver, SteelSeries CEO, commented in the press release about the new keyboards, saying...
They're certainly not the most complex looking or technically designed keyboards around, but with the original Apex carrying a $99.99 price tag and the more affordable Apex Raw carrying a $69.99 price tag, you can't really argue much with that.
You can check out a complete list of both keyboard's functions below or you can learn more about the Apex and the Apex Raw by visiting the Official Steelseries Website.
Apex Keyboards Feature:
· Raised macro keys along the top and left side, which provide faster and more precise macro combinations.
· The addition of two small tactile bumps on the W-key to provide a faster return to WASD.
· Superior anti-ghosting that supports simultaneous key presses in 20 of the most used gaming keys on the Apex and Apex [RAW}.
· An enlarged space bar and added directional keys are supporting features that improve comfort and reaction time.
· The SteelSeries key easily adjusts brightness and disables the windows key with no software required.
· Equipped with two swappable feet, the user can adjust the keyboards angle to what is most comfortable.
Staff Writer at CinemaBlend.
Your Daily Blend of Entertainment News
Thank you for signing up to CinemaBlend. You will receive a verification email shortly.
There was a problem. Please refresh the page and try again.