Street Fighter 5 Vega Trailer Dices Up Necalli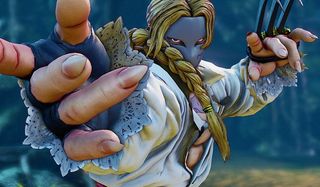 Street Fighter 5 is bringing back long-time villain Vega. The first trailer shows the masked warrior slashing up his opponent with his signature claws.
Capcom announced Vegas's return in a PlayStation Blog post. Here's their brief overview of the character, in case you're a series newbie:
Vega has undergone some changes for Street Fighter 5. He now has blond hair and a loose-fitting white shirt as if he just stepped off the cover of a trashy romance novel.
Vega/Fabio now has a new fighting style as well. He can choose to fight with or without his claws. When he sheathes his claws, he can access new moves like a command grab. If they're knocked off in battle, he can't pick them up. Knowing how to fight with or without claws is a must.
His V-Skill, performed by pushing medium punch and medium kick at the same time, is Matador Turn. This ability lets him dodge an incoming attack and potentially hit them with a counterattack that knocks them to the floor. Bloody Kiss, his V-Trigger ability, lets him toss a rose at his opponent. If the rose hits them, Vega can follow up with a series of slashes.
His opponent in the trailer above is Necalli, the first all-new character announced for Street Fighter 5 thus far. Revealed at EVO 2015 last month, Necalli is a dreadlocked grappler with a wild fighting style. He's one of four new characters that will be introduced in SF5.
Street Fighter 5 will launch in Spring 2016 with a roster of 16 characters. The fighters confirmed so far include Ryu, Chun-Li, M. Bison and Ken. Capcom will release additional characters after launch that can be bought or earned through gameplay.
Image 1 of 3
Your Daily Blend of Entertainment News
Staff Writer at CinemaBlend.