Super Mario Galaxy Details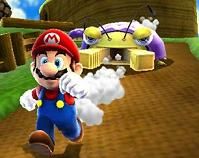 The October issue of Gamepro featured a new preview and article on the upcoming Mario adventure game, Super Mario Galaxy, due out for the Nintendo Wii in November. Not far apart from Mario and Sonic: Olympic Games.
In the new platform adventure, Mario will go to outer space for the first time since I think . . . Mario Bros. 2 on the Gameboy, right? Didn't that have an outer space level with Mario in a space suit?
Bro Buzz said that "In outer space, Mario is presented with new types of gravity-based platforming challenges. New two-player co-op mode for the game has been confirmed. " So does this mean that poor lonely Luigi who had to sit out for Mario 64 will finally get some play in this game?
According to the article the game will have six areas spread across 40 galleries, and there will be 120 stars for gamers as Mario to collect. There will be lots of gravity based puzzles, and alternate suits for Mario in the game as well (like bee and ghost suits). The game also has a second player-assist mode, where someone can grab another Wii-mote controller and help you out by pointing out alternative routes on screen.
Bro Buzz says that "Super Mario Galaxy is ready to blast off." I definitely concur.
Your Daily Blend of Entertainment News