Teenage Mutant Ninja Turtles Video Game Coming This Summer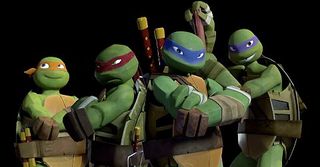 Activision revealed today that they've purchased the rights to produce video games based on Teenage Mutant Ninja Turtles. Their deal with Nickelodeon will spawn at least three games based on the cartoon series.
"The fans of Teenage Mutant Ninja Turtles are unique in that they span generations and are very passionate," said Kurt Niederloh, vice president of Activision Publishing Minneapolis. "We respect this passion and look forward to working with Nickelodeon to create games that embody the spirit of the property."
Teenage Mutant Ninja Turtles stars four humanoid turtles who live in the sewers of New York City along with their humanoid rat ninjutsu master. The Turtles use their combat skills to fight a group of evil ninjas known as the Foot Clan. They must also prevent an alien race known as the Kraang from taking over the city.
Nickelodeon bought the franchise from The Mirage Group and 4Kids Entertainment in 2009. They launched a new computer-generated TV show last year. This show altered the storyline and characters somewhat. For example, Michelangelo now says ""Booyakasha" instead of "Cowabunga." Activision's games will be based on the new show.
There hasn't been a new Teenage Mutant Ninja Turtle since 2009's Teenage Mutant Ninja Turtles: Arcade Attack for the 3DS. The most recent publisher for the series was Ubisoft. It seems that they chose not to renew their license for creating TMNT games after Nickelodeon took over the franchise.
The first game produced under Activision and Nickelodeon's multi-year agreement will arrive this summer. No details on the game were provided today.
Staff Writer at CinemaBlend.
Your Daily Blend of Entertainment News
Thank you for signing up to CinemaBlend. You will receive a verification email shortly.
There was a problem. Please refresh the page and try again.