Terraria Coming To PS4 And Xbox One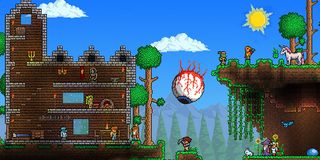 505 Games revealed today that their indie sandbox title Terraria is in development for Xbox One and PS4. They plan to show off the new-gen versions of the game in the near future.
"At E3, we will be showing off Terraria on PS4 behind closed doors, with cross-play and cross-save to PS Vita!" the publisher announced on Terraria's forums. "All of the 1.2 content will be packed into our Terraria Next Gen releases alongside some brand new functionality!"
In Terraria, players explore a randomized 2D world filled with monsters. Players must gather materials and use them to craft items that help them fend off these evils. They can also create buildings where NPC's will settle to unlock new content. Eventually players acquire items that allow them to summon powerful boss enemies. There are no set objectives, though. You can choose how to spend your time in the game and that freedom is part of the reason for its smashing success.
It's not surprising to hear that Xbox One and PS4 versions of Terraria are in development. Re-Logic and 505 Games have been producing ports left and right since the game debuted on PC in 2011. Terraria has since been released on PS3, Xbox 360, PS Vita, iOS and Android. What's a couple more platforms, eh?
Some of the prospective buyers for the Xbox One and PS4 versions probably own the game on another platform. Maybe 505 will offer a discount to those gamers who upgrade to the new-gen Terraria? Or perhaps buying the Vita version will unlock a free copy of the game on PS4 (and vice versa).
Patch 1.2 was a major update released on PS3, Xbox 360 and Vita in April and on PC last fall. The patch introduced over a thousand items to the game. It also introduced visual updates and a snow biome. It's great to hear that the 1.2 content will be included with the PS4 and Xbox One versions, ensuring that they don't lag too far behind the other editions of the game.
"The PS4 and Xbox One versions are slated for release later in 2014," concludes the announcement. "Look out for more Terraria news and maybe some sneak-peak screens next week!"
Terraria developer Andrew "Redigit" Spinks confirmed in October that a sequel is underway. Maybe the PS4 and Xbox One will be lucky enough to get that game in time as well.
This poll is no longer available.
Staff Writer at CinemaBlend.
Your Daily Blend of Entertainment News
Thank you for signing up to CinemaBlend. You will receive a verification email shortly.
There was a problem. Please refresh the page and try again.