TimeSplitters 2 HD Was In The Works At Free Radical When They Shutdown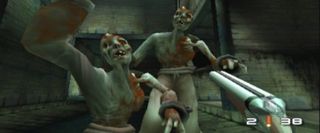 In addition to a Star Wars: Battlefront 3 game that the internet nearly exploded over because no one will ever get to play it, Free Radical was also working on another game that also might cause a slightly smaller explosion: TimeSplitters 2 HD.
In an interview with NES [via Eurogamer] former Free Radical game designer Steve Ellis dropped some more bombs on gamers, giving us an idea of what could have been and what no longer is, saying...
Oh well, that's nice. For those of you who may have forgotten Crytek mentioned that if fan support gets big enough they might do something about TimeSplitters 4 since they now own the rights to the TimeSplitters brand. After hearing this, the gaming community took to arms and started a fan-page for TimeSplitters 4 on Facebook.
The cancellation of TimeSplitters 2 HD shouldn't come as much of a surprise given that Star Wars: Battlefront 3 also bit the dust under Free Radical's reign thanks to a numbskull at LucasArts, a move that tag-teamed with the poor sales of Haze, resulting in the untimely demise of Free Radical.
The company has been recollected and rebranded as a subsidiary of Crytek and they're now working on conjunction projects under the Crytek label, including the upcoming sequel to Homefront, Homefront 2.
With Crytek's eye on an all-digital future, it may not be surprising to see TimeSplitters 2 HD appear on Steam, Xbox Live Arcade and PSN shortly after the release of Crysis 3, and hopefully they can add some hands to the guns this time around.
You can check out the entire interview with Ellis over NES.
Staff Writer at CinemaBlend.
Your Daily Blend of Entertainment News
Thank you for signing up to CinemaBlend. You will receive a verification email shortly.
There was a problem. Please refresh the page and try again.