Titanfall May Sell 2.5 Million Copies This Month, Half On Xbox One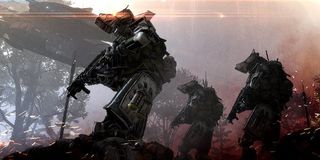 Titanfall might be the best-selling game in March, but how many copies will it move? Sterne Agee analyst Arvind Bhatia is predicting that the multiplayer shooter will sell around 2.5 million units between its March 11th launch date and the end of the month.
Bhatia believes that about half of those March sales will be for the Xbox One. It seems like a reasonable assumption. The Xbox One edition of Titanfall only has to compete with the PC version for most of the month. The Xbox 360 version is launching 14 days after its XB1 and PC counterparts, meaning that it will only be on sale for less than a week in March.
If Xbox One can capture the lion's share of Titanfall sales, that would be great news for Microsoft. They've been heavily hyping the XB1 version in hopes that it can drive sales of their hardware. Their efforts include a limited edition controller and a console bundle. The company also pushed out a multiplayer-focused system update for Xbox One just in time for Titanfall's launch.
Bhatia projects 6 million in sales for Titanfall's first 12 months in stores. He didn't mention the split between platforms for that figure. It's possible that the Xbox 360 version will claim a bigger piece of the pie considering its user base is around 10 times the size of the Xbox One right now.
"These expectations, while reasonable, aren't necessarily conservative either given this is a brand new title and will not be available on PS4/PS3."
He cites the "strong buzz" for Titanfall as reasons for his optimism. As he points out, the game has been widely praised by the press and received multiple awards for its convention showings. He also mentions the recent beta, which attracted 2 million players across the XB1 and PC.
Morgan Wedbush analyst Michael Pachter predicted in January that Titanfall will sell 6-10 million. He said that the game will hit the high end of that range if reviews are above 90 Metacritic average. They'll be on the low end if the average is below 80.
Titanfall publisher EA hopes to prolong their revenue from the game with post-launch DLC. Yesterday they announced that developer Respawn has three DLC packs planned for the game. These packs will be sold individually for $10 or as part of a $24.99 Season Pass. PC gamers can also buy a Digital Deluxe Edition that includes both the full game and all of its DLC for $79.99.
Your Daily Blend of Entertainment News
Staff Writer at CinemaBlend.