Titanfall Xbox 360 Delayed Again, Xbox One And PC Versions Selling Better Than Expected?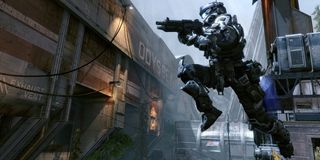 Titanfall's Xbox 360 version won't be out this month, it turns out. EA Studios executive vice president Patrick Soderlund announced this morning that they've decided to push the 360 version's release into April.
"I've been playing the game a lot, and it is fantastic," Soderlund said on the official Titanfall website. "But we see a few things that can be made even better, so we're giving Bluepoint a little more time to do just that and deliver an epic Titanfall experience for Xbox 360 players. "
"Titanfall for Xbox 360 will now be releasing on April 8 in North America, and beginning on April 11 in Europe. The game will feature the same 6v6 gameplay, maps, modes, weapons and Burn Cards as the Xbox One and PC versions of the game."
The game was originally slated to launch on Xbox 360, Xbox One and PC simultaneously. In February, EA delayed the 360 version by two weeks. EA said they wanted the developers to have extra time to put "finishing touches" on the game.
While the XB1 and PC versions of Titanfall were made by Respawn, the 360 edition is in development at Bluepoint Games. The Austin-based studio specializes in porting other studios' games. For example, they created the Metal Gear Solid HD Collection for Xbox 360 and PS3 as well as the PS4 and Vita versions of Flower.
Titanfall launched on Xbox One and PC last week. While sales figures haven't been announced by EA yet, Sterne Agee analyst Arvind Bhatia believes that this delay is a sign that those two versions have sold better than expected.
"Importantly, this delay is not expected to impact F4Q'14 (March) revenue or earnings," Bhatia said. "We believe this suggests that the Xbox One and PC versions of Titanfall, which were released on March 11, have performed better than expected. With respect to the Xbox 360 version of Titanfall, we had previously modeled ship-in of slightly less than 1M units in the March quarter. "
Bhatia previously stated that Titanfall will sell 2.5 million copies this month. He believed that half of those sales would be on Xbox One. The XB1's share of that 2.5 million should be higher, then, if the 360 edition won't be out at all in March.
Though the focus is on first-month sales right now, Titanfall's long-term figures should be more interesting. Will the game only be adopted by a small hardcore fanbase or continue to sell throughout the year? The game received strong reviews so it's possible the game will be a first purchase for many new Xbox One owners in the months ahead.
Staff Writer at CinemaBlend.