Titanfall Xbox One Controllers Have Begun Shipping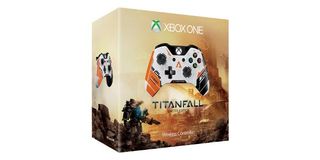 If you ordered the special edition Titanfall controller for Xbox One, you could receive it real soon. A few of the gamepads are already being shipped out to gamers.
An Xbox One owner on Reddit said that he received a tracking number for his three controllers from the Microsoft Store. They'll be arriving sometime this week. Another gamer reported that the controller had been charged to his credit card, generally a sign that the order's about to ship.
The Titanfall Xbox One controller is inspired by the in-game C-101 Carbine. Its white body is adorned with several black and orange decals as well as some futuristic writing. It's a snazzy piece of hardware, though the $64.99 price tag annoyed me a bit.
Many gamers like the look of the controller as well. It's sold out at several retailers, including Amazon. That must be encouraging to EA and Microsoft, who are both counting on a huge launch for the Xbox One version of Titanfall.
Rumor has it that the two companies are planning a Titanfall edition of the console, too. The bundle would include a copy of Titanfall, the controller and a console with a similar paint job. If the Titanfall Xbox One bundle existed, though, you'd think there would've been an announcement by now to scoop up pre-orders. I wonder if EA and Microsoft regret not selling this package given the high demand of the controllers.
The Titanfall controller was supposed to be released alongside the game in March. I'm not surprised that a few are being shipped already, though. I mean, It's not hurting anybody for these controllers to be out in the wild. It's certainly less of a problem than the game launching early would be. If anything, the unboxing videos floating around YouTube help sales by whetting gamers' appetites for them.
Titanfall will debut on the Xbox One and PC on March 11th. The Xbox 360 version will arrive two weeks later.
Image 1 of 2
Image 2 of 2
Staff Writer at CinemaBlend.
Your Daily Blend of Entertainment News
Thank you for signing up to CinemaBlend. You will receive a verification email shortly.
There was a problem. Please refresh the page and try again.