Tomb Raider 2 Coming To PS4 And Xbox One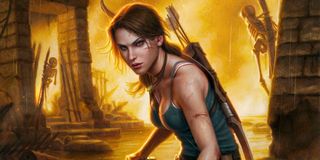 Tomb Raider publisher Square Enix is currently working on a next-generation sequel to this year's reboot, the company confirmed today. Tomb Raider 2 is part of the company's continued attention to AAA development.
"Square Enix is in production with a number of next generation projects, including Final Fantasy XV and Kingdom Hearts III, which were announced at this year's E3, and Thief coming in 2014," said Phil Rogers, Square Enix in the Americas and Europe. "I am also excited to reveal that we are well into development on a next-generation Tomb Raider sequel – something you may have heard about recently!"
Gail Simone, writer for a new Tomb Raider comic book series, first mentioned the sequel last month during an interview.
"We start just a few weeks after the end of the game, and this is all in continuity, it will be Tomb Raider canon, and lead DIRECTLY into the sequel," Simone told Kotaku at the time. "This is what got me excited; we get to be part of Lara Croft history."
The Tomb Raider reboot released this year told the "origin story" for Lara Croft. During her first expedition, she becomes ship-wrecked on an island filled with murderous scavengers and hostile animals. The story focused on her growth from a frightened student to a hardened adventurer.
I'm curious where they can really go with Tomb Raider 2. Lara's transition into action hero seemed complete by the end of the game (if not sooner than that). How are they going to continue her development? The reason the original Tomb Raider series declined was that Lara was this inscrutable superwoman. It'll be interesting to see how the team at Crystal Dynamics tries to keep the character from falling into that familiar rut.
Regardless, it's great to see that Tomb Raider is getting a sequel. The game sold 3.4 million in less than a month but that was still below Square Enix's expectations. The company posted huge losses for that fiscal year, causing president Yoichi Wada to resign. Square Enix, thankfully, realized that their financial problems weren't due to Tomb Raider but instead a mismanaged company that couldn't make a proper profit off a game that sold over 3 million copies. Rogers says they've reorganized their studios to streamline their production.
"We've recently re-orientated our studio leadership to focus production expertise at the top, to allow us to ship the best quality games possible, faster and with better cost control. We've taken away administrative duties from studio heads, so they get closer to the games, gameplay and gamers with fewer distractions. We've made these changes to all of our studios in the Americas and Europe and we believe this will improve not only the quality of our games, but also improve the time between releases."
Along with funding additional core games, Roger says the company will be supporting more platforms and trying "new things." He mentioned mobile game Deus Ex: The Fall and online strategy Heroes & Generals as examples of this experimental approach.
Your Daily Blend of Entertainment News
Staff Writer at CinemaBlend.