Tomb Raider Definitive Edition Coming To PS4 And Xbox One?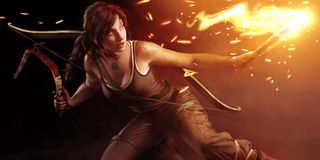 Crystal Dynamics' reboot of Tomb Raider could be coming to Xbox One and PS4. Amazon Italy now has two listings for a Tomb Raider: Definitive Edition.
The first listing (via Videogamer) is for the PS4. The second listing doesn't mention a platform. However, it's presumably for the Xbox One because the product description mentions that the Definitive Edition is for next-gen consoles. Square Enix previously ruled out a Wii U release.
Also, in case you're wondering: this isn't some sort of HD remake of the 1996 Tomb Raider. The Amazon listings also include the basic plot synopsis of this year's reboot. Lara, a young woman fresh out of the academy, is shipwrecked on a remote island. The game chronicles her growth into a hardened adventurer as she overcomes the island's dangers and tries to rescue her former shipmates.
The Definitive Edition will come an art book along with all of the downloadable content released for Tomb Raider. The game's DLC consisted of three map packs that added a total of six new arenas for the multiplayer. There was no single-player DLC save for three bonus outfits.
Tomb Raider sold about 3.4 million copies in its first month of release earlier this year. That's a strong showing but it was below Square Enix's crazy expectations. Perhaps Square Enix feels that the next-gen consoles are a new opportunity to capitalize on the game's strong reviews. Hopefully they buy a few thousand less bus advertisements for the game so it can make a tidy profit on Xbox One and PS4.
According to the Amazon listing, the game will arrive on January 24th of next year. That's typically a very slow period of the year for new releases so it won't have too much competition. Plus, at that point, many PS4 and Xbox One owners will probably have finished whatever launch titles they were interested in for their shiny new consoles.
Square Enix confirmed in August that they're making a next-gen sequel for Tomb Raider. A re-release of the first game would have the added benefit of stirring up more interest for Lara's next adventure.
Image 1 of 6
Your Daily Blend of Entertainment News
Staff Writer at CinemaBlend.