Tony Hawk's Pro Skater 5 Announced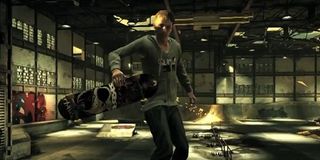 It's once again time to grab your virtual deck and hit the pavement as Activision announces Tony Hawk's Pro Skater 5, heading to the PlayStation 4, PlayStation 3, Xbox One and Xbox 360.
Before you roll your eyes too hard or throw something at your monitor, there's one very important piece of info you might want to know about the new Tony Hawk game, which was recently revealed in an exclusive first look over on Gameinformer: They're trying to return the series to its roots.
According to the original story, this latest trip to a skater's paradise aims to blend the old school Hawk gameplay with "new additions such as power-ups and the ability to shoot projectiles for specific missions."
Okay, now you can begin the eye rolling. I don't like to write anything off until I've experienced it for myself, and maybe the above statement refers to something that'll actually turn out to be rad as hell, but I have a hard time coming to terms with claims that Activision is aiming to give us the feel of the original Pro Skater series, followed immediately by a sentence that goes in the complete opposite direction.
Not a heck of a lot more is known about the game at this point, except for the fact that levels will once again offer a collection of missions that you can try to tackle either solo or with some online friends. There will also be online competitive modes, so fingers crossed that the Tag gameplay will make a triumphant return, wherein players try to score the best trick off of environmental objects and thus "tag" said object in their color. That mode was always a lot of fun back in the day.
Also making a return are player-created skate parks, which I'll quickly put in the "positives" category. I used to spend hours crafting my own parks, and the ability to share them online in THPS5 is a welcome one.
The final bit of early information pertains to the game's cast. I used to follow skating because of the Pro Skater series, so you'll have to excuse me for not knowing a thing about Lizzie Armanto, Chris Cole, Nyjah Huston or Andrew Reynolds, all of whom make an appearance in the new game. For fans of the sport, I'm sure that comes as great news.
Again, it's not fair of me to instantly scoff at the idea of a new Pro Skater, but that's like holding it against a person when they refuse to pet a dog that's bitten them a few too many times. I am, however, happy and more than willing to be proven dead wrong. I used to love this series, so here's hoping that Activision truly understands what made it so great in the first place and actually plans to implement those things in this new game. "Projectiles," though, isn't a promising start.
Staff Writer for CinemaBlend.
Your Daily Blend of Entertainment News
Thank you for signing up to CinemaBlend. You will receive a verification email shortly.
There was a problem. Please refresh the page and try again.