Transformers Cybertron Edition For Xbox 360; Facts And Features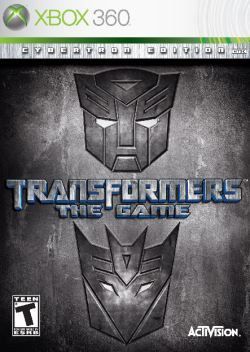 So the Transformers game is really cool. We all knew that the game had potential when the first screenshot became available, and even more so when the trailer was released. But now Activision is taking things to the next level for Xbox 360 gamers, as Transformers will be released in a limited Cybertron Edition as well.
There's good and bad news attached to the limited edition of Transformers. First of all, only GameStop and EB Games will carry the Cybertron Edition. But that's not all that bad, considering that those are the only major brick and mortar gaming retailers, next to Game Crazy. But now for the obvious bad news; only Xbox 360 gamers will get the privilege of owning the Cybertron Edition. What a slap in the face of PS3 gamers. Anyway, a full list of the details are below.
Transformers: Cybertron Edition Features:
• Bonus unlockable levels: Bonus code to unlock two 'Cybertron' levels, one for each side in the game (Autobot and Decepticon)
• Bonus Content Disc: Behind-the-Scenes Interviews and B-Roll from movie and game talent: Peter Cullen (original Optimus Prime, Optimus Prime in game and film) Frank Welker (original Megatron, Megatron in game)
• "Making of" features with the game's development teams Film content including movie trailers and TV spots.
• Prequel Comic Book Volume 1 of 4 official movie prequel comic books. Designed by Transformers artist legend, Don Figueroa. Published by IDG comics.
• Storyline: Tells the back-story of the battle between Autobots and Decepticons on Cybertron, as well as the importance of the All-Spark cube and how it was lost.
• Limited Edition Packaging: Special packaging featuring classic Transformers icons and images of Cybertron. Price $69.99
Your Daily Blend of Entertainment News
Staff Writer at CinemaBlend.