Transformers: Devastation Gameplay Trailer Looks Exactly Like A Cartoon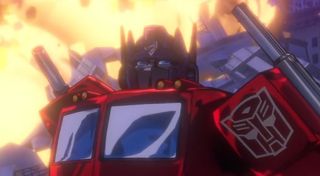 Gamers are thrilled with the new gameplay footage for Platinum Games' upcoming Transformers: Devastation, the cel-shaded 3D beat-'em-up game for home consoles. Activision is publishing the title and it's a throwback to the G1 1980s era of the Transformers that so many people grew up loving. You can check out the gameplay footage below.
The game is more oriented around fast-paced combos and up-close melee attacks as opposed to the third-person shooting mechanics present in High Moon Studios well-regarded War for Cybertron and Fall of Cybertron games.
The art-style, of course, is also vastly different from the kind presented in High Moon's titles, falling back to the cel-shaded look of the 1980s cartoons with the glossy chromatic reflections and high-saturation for the character colors to make them pop out of the screen.
As far as the gameplay is concerned in this new Transformers title, the game melee attacks are designed to mimic the fast-paced beat-'em-up style we've seen in previous Platinum Games titles such as Metal Gear Rising: Revegengeance.
The combos are fast and furious and the animations look top notch. There's a smooth flair to the way the characters move, even though it doesn't look motion captured.
Many of the people on the YouTube comment page were absolutely thrilled with the look and the presentation of the game. There are tons of nostalgic gamers and cartoon aficionados on the page just expressing how much they love what Platinum Games is doing with Transformers: Devastation and how this is a love letter to the classic television show and movie.
The discussion for many of the commenters moved on toward the game's soundtrack. The trailer above keeps things pretty generic, but a lot of gamers are hoping that Platinum at least pays homage to Vince Vince DiCola's score that was used in the movies from the 80s or at least a throwback to the television's theme song. For those of you who don't remember here's the theme song performed by Lion for the 1986 flick.
Transformers: Devastation's plot centers around Megatron attempting to siphon plasma energy from Earth. Optimus Prime and a handful of Autobots engage the Decepticons in a battle to save Earth. Players will take control of several Autobots, including Bumblebee, Grimlock, Sideswipe and Optimus Prime to name but a few.
Activision has also brought back some of the old voice actors from the original series, including Peter Cullen and Frank Welker.
Transformers: Devastation is due for release later this year for the Xbox 360, PS3, PS4, Xbox One and even PC. You can learn more about the game by hitting up the official website.
Your Daily Blend of Entertainment News
Staff Writer at CinemaBlend.