Twisted Metal Creator Reveals Drawn To Death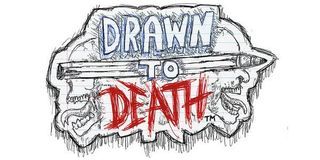 Twisted Metal and God of War designer David Jaffe announced his next game. His new company, The Bartlet Jones Supernatural Detective Agency, is developing a PS4 arena shooter called Drawn to Death.
Drawn to Death takes place in the notebook of a teenager. It's a fully 3D game but the characters and world look like they've been drawn on lined paper. At one point in the trailer, a player takes control of the teenage artist's hand and impales his opponent with a pencil.
While the setting is something we've never seen before, Jaffe promises that Drawn to Death will be a throwback in many ways.
"We want Drawn To Death to play like the offspring of an old school arena shooter (with updated, modern sensibilities) and a hardcore brawler/fighting game. We want our signature launch mode – a 4 Player Free For All Deathmatch – to be action packed while also giving players the need and ability to master advanced environment movement, learn and exploit enemy tells, and form clever strategies that pay off in big victories!" Jaffe said on PlayStation.Blog
He adds that additional information on the project will be coming very soon.
"Unveiling Drawn to Death at PSX is just the beginning of what we have in-store. The game itself will be in continual development and we'll be very active on our forums and on social media, reaching out to the game's fans in order to learn what you love about the game and to discuss the things you feel we need to work on in order to improve the title."
The newly launched website, DrawnToDeath.com, doesn't include any other details on the project. However, it does include a bonus for players who visit the site and sign up for this early access. The freebie, an exclusive in-game skin, will only be offered during this weekend. You can also get a wallpaper and private access to the developer forums by signing up.
Jaffe didn't announce a release date for the game yet. However, Drawn to Death was already playable at PlayStation Experience so this isn't some project we'll be waiting years for.
Staff Writer at CinemaBlend.
Your Daily Blend of Entertainment News
Thank you for signing up to CinemaBlend. You will receive a verification email shortly.
There was a problem. Please refresh the page and try again.