Ubisoft: Call Of Duty: Black Ops 2 Imitates Ghost Recon: Future Soldier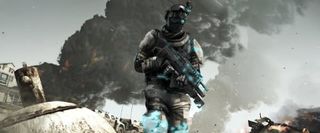 Ubisoft revealed this morning that Tom Clancy's Ghost Recon: Future Soldier has gone gold. They also took the opportunity to mock Call of Duty: Black Ops, which was announced earlier this week.
"While one of our competitors recently revealed plans to imitate our game's future technology for their release in the fall, we're proud to be bringing Ghost Recon: Future Soldier to retail this month," said Tony Key, senior vice president of sales and marketing, Ubisoft. "Future Soldier has an unparalleled amount of high-tech weapons, gadgets and technology based on real prototypes currently in development that will show gamers the true meaning of future warfare."
I'm used to companies simply reiterating their game's release date when they announced that the title went gold. The unexpected bit of smack-talk woke me up. Looks like EA isn't the only Call of Duty hater in town. It's funny to see this trash-talk make its way from discussion forums to press releases.
Future Soldier, like Black Ops 2 takes place in the near future. Players take on the role of a specials ops soldier with advanced tech, including optical camouflage. In the campaign, they'll lead a squad of Ghosts on a worldwide mission. The single-player is supplemented by team-based multiplayer with class-based progression.
The Xbox 360 and PS3 will receive Future Soldier on May 22nd here in North America. The PC release will follow on June 12th. To find out more about the game, read our preview from the beta test.
Staff Writer at CinemaBlend.
Your Daily Blend of Entertainment News
Thank you for signing up to CinemaBlend. You will receive a verification email shortly.
There was a problem. Please refresh the page and try again.