Unlock Mass Effect 3 Items With Kingdoms Of Amalur: Reckoning Demo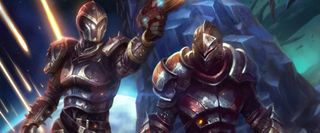 Electronic Arts will be cross-promoting two of its upcoming single-player role-playing games. The demo for Kingdoms of Amalur: Reckoning will unlock items for use in Mass Effect 3 and vice versa.
The demo for Reckoning will arrive on January 17th. It lets players try out the tutorial and a chunk of the open world. After they've created a custom hero and learned the ropes, players will get to explore Amalur for 45 minutes.
By playing the Reckoning demo, you can unlock two items for Mass Effect 3. Both have been designed by Spawn creator Todd McFarlane, who also assisted with the artwork on Reckoning:
Reckoner Knight Armor: This armor will maximize damage done in close-quarters combat while a beefed–up power cell feeds energy into weapon systems to increase projectile velocity.
The Chakram Launcher: This weapon uses a fabricator to manufacture lightweight, explosive ammunition discs. This weapon is earned after completing the Reckoning demo and watching the trailer at the end.
The demo also gives you three items for Reckoning itself:
Twist of Fate Card: This card boosts the player's ice resistance and is immediately unlocked when he or she activates the Reckoning demo using his or her Origin account.
Twinned Souls Chakram: A unique weapon that damages enemies while boosting player health and mana in Reckoning.
The Infernal Helm: Unlocked after completing the Reckoning Tutorial Mode, this protective helmet increases players' fire damage throughout Amalur.
The Mass Effect 3 demo provides players with a look at the single-player and multiplayer sides of the game. Last we heard, it was due sometime in January. Downloading and playing that demo will unlock additional items for Reckoning:
N7 Armor: Players can unlock special armor inspired by Commander Shepard's iconic N7 battle armor including Helm, Cuirass, Gauntlets, Chausses and Greaves.
Omni-blade Daggers: A holographic blade stemming from Commander Shepard's Omni-Tool, the Omni-blade allows players to stab enemies in close combat. Once players install and play the Mass Effect 3 demo, they will unlock the daggers.
Reckoning will arrive on February 7th in North America and on the 10th in Europe. ME3 will hit those territories on March 6th and 9th.
Image 1 of 1
Your Daily Blend of Entertainment News
Staff Writer at CinemaBlend.
Your Daily Blend of Entertainment News
Thank you for signing up to CinemaBlend. You will receive a verification email shortly.
There was a problem. Please refresh the page and try again.