Walking Dead Studio Making Game Of Thrones Game?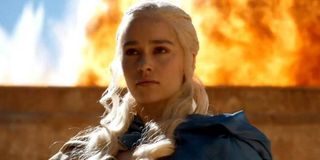 Game of Thrones fans may get another video game soon. According to a new report, The Walking Dead developers Telltale Games are currently creating a game based on the George R.R. Martin novel series and HBO television show.
It's not clear whether the game will be taking inspiration from the TV show or the novels. The general storylines of A Song of Ice and Fire (the name of the novel series) and Game of Thrones are pretty close, though. It probably wouldn't make much of a difference to anyone but the most hardcore fans.
There have been several Game of Thrones games released since the show's premiere. Cyanide produced a role-playing game and real-time strategy. Facebook users can plot domination of Westeros with Game of Thrones Ascent. There are also unofficial adaptations, like the Crusader Kings 2 and Medieval II: Total War mods.
Telltale would be an interesting developer for a new Game of Thrones title. They favor more character-driven games that emphasize story-telling over action. The Walking Dead was one of the better written games of last year so I'd love to see what they could do with the Game of Thrones license.
IGN's report says they confirmed the news with "multiple sources." Steve Allison, AVP of Publishing, declined to comment on the matter. He simply said that they hear rumors like this all the time.
The novel and TV series center around noble families that fight and manipulate each other to gain supremacy. That short description doesn't really convey the scale of the story, though. We see the tale unfold through the eyes of multiple characters across two continents. It would take a few games to cover all the events shown in the five novels or three seasons.
It's very possible that Telltale will do what they did with The Walking Dead: create an entirely new storyline set within the Game of Thrones universe. It's such a huge world and we've only seen a fraction of it. There are plenty of characters and events mentioned that Telltale could flesh out through an episodic adventure. Off the top of my head, here are a few ideas they could base the game around:
Bronn the mercenary's colorful adventures
The Brotherhood Without Banner's guerilla war
Robert Baratheon's rebellion
Ser Barristan Selmy's journey from Westeros to Essos
Jaqen H'ghar. 'Nuff said.
Do you have a better idea for a Game of Thrones game? Let us know in the comments below.
Staff Writer at CinemaBlend.
Your Daily Blend of Entertainment News
Thank you for signing up to CinemaBlend. You will receive a verification email shortly.
There was a problem. Please refresh the page and try again.