Warframe Dev Acquired By Perfect World, Sumpo Food Holdings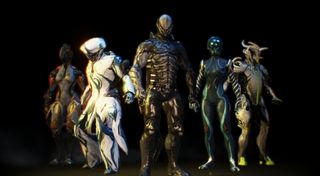 There have been some strong rumors running around that Digital Extremes, the developers of the extremely popular free-to-play action title Warframe, was being eyed by Perfect World Entertainment and food company Sumpo Food Holdings.
GamesIndustry.biz is reporting that Sumpo Food Holdings has taken a large majority of Digital Extremes, as the developer sold off 61% of their holdings, with 58% going to Sumpo Food and 3% going to Perfect World.
James Schmalz, CEO of Digital Extremes commented about the deal, stating...
According to the article, Digital Extremes managed $27 million in revenue leading up to April 30th, 2014, and more than $8.7 million in profit.
Digital Extremes managed to do quite well with Warframe due to the fact that the game is righteously badass. There's no denying that it stands in a league all its own and is one of the rare free-to-play titles where gamers actually want to throw money at the developer. Heck, I wanted to throw money at the developer... heck, I did throw money at the developer!
The thing is is that a lot of gamers are also terribly afraid of what might happen now that Perfect World has a 3% hold of Digital Extremes' shares. Previously, gamers were of the mind to propose a strike against Digital Extremes in light of news coming out about the potential acquisition.
However, it turns out that the Perfect World angle isn't as nefarious as gamers might have been expecting. The company only wants to distribute and publish the title in some Asian territories – mostly China.
The worry about Perfect World Entertainment stepping in and turning Warframe into a sort of pay-to-win grindfest can be subsided... for now.
According to the document relating to the acquisition...
It's also somewhat surprising that we're seeing more game studios becoming established as independent financial powerhouses. It's a weird thing knowing that Digital Extremes has a board of directors and a measure of shares even though they don't have a formal publisher.
Anyway, Warframe continues to be updated and upgraded on a timely basis. In fact, there are even some new mods to help breathe some fresh life into the game. Check it out below.
If you like what you see, you can learn more about the game by paying a visit to the official website.
Your Daily Blend of Entertainment News
Staff Writer at CinemaBlend.