Warhammer Online Shutting Down, Free-To-Play Switch Cancelled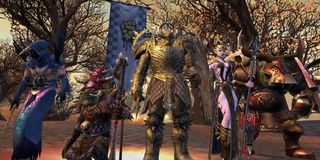 Warhammer Online: Age of Reckoning turns five years old today but there's no celebration planned. Instead, developer Mythic announced that they're shutting down the game for good later this year.
"We here at Mythic have built an amazing relationship working with Games Workshop creating and running Warhammer Online: Age of Reckoning over the last 8 years," reads a notice on the game's website. "Unfortunately, as with all licensing deals they do eventually come to end and on December 18th, 2013 we will no longer be operating Warhammer Online. As such we will no longer be selling 3 month game time codes or have the ability to auto renew your accounts for 3 months as of September 18th, 2013. "
Warhammer Online was one of a long line of would-be World of Warcraft killers. It had a huge launch back in 2008, with over 1.2 million copies sold in its first two weeks. However, those buyers didn't turn into long-term subscribers. Subscription numbers dropped to 300,000 within six months and never recovered.
The game's been essentially a dead man walking for the past few years. Mythic turned their focus to creating a PvP-focused, free-to-play spinoff called Wrath of Heroes. They eventually cancelled the project before it left beta. The studio announced this June that they were no longer offering six-month subscription packages on Warhammer Online due to lack of interest.
Considering parent EA's love for all things free-to-play, it was always baffling to me that they never turned the MMO itself into a F2P game. Warhammer Online emphasized large-scale PvP so an infusion of new players from a free-to-play switch might have helped keep the game alive. After all, it helped Lord of the Rings Online and Dungeons and Dragons Online. Couldn't it have saved Warhammer Online as well?
In a farewell letter addressed to fans, producer Carrie Gouskos revealed that Mythic spent a year working "on a version [of Warhammer Online] aimed at the Asian markets that would convert the entire game free-to-play." However, the transition from a subscriber-only business model never came so the game continued to fade away. Plans for an iPhone companion app and a vampire-themed Blood Hunt expansion were scuttled as well. I guess EA did the math and realized that renewing the license and continuing development would far outweigh whatever revenue they could wring from the five-year-old game.
"There were some beautiful ideas that were left on the cutting room floor," Gouskos said. "And they represent only a fraction of how much heart went into the game Most everything else made it, and Warhammer despite its flaws was a valiant effort into the MMO space. I don't think any of its critics would ever call it boring. It struck out boldly, and some of the game's novel features are now considered industry standard for MMOs."
She's not lying on that last point, by the way. There were some really great features in Warhammer Online for all its shortcomings. Public quests and map quest markers are two examples that come to mind right now.
Mythic didn't announce whether Warhammer Online's shutdown will be preceded by any special in-game events. I hope they do, though. The developers and the remaining players deserve a party after the five-year waaagh they shared.
Your Daily Blend of Entertainment News
Staff Writer at CinemaBlend.