Wasteland 2 Gets $1.5 Million On Kickstarter, Now Coming To Mac And Linux Too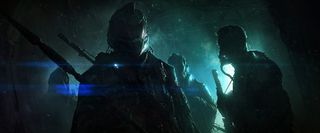 inXile entertainment's decision to fund post-apocalyptic PC RPG Wasteland 2 through Kickstarter has proved to be a smart one. The gaming community has coughed up over $1.5 million for the project, leading inXile to announce two more platforms.
"We just made our next major milestone, thanks to you all, which means more content plus a Mac and Linux version," said inXile. "And the number continues to grow, and that means a better product for all as we can hire more writers and scripters to add even more depth of consequence to the world, add more music and sound to set the atmosphere, and make the world larger to explore. Let's keep the number increasing and really knock it out of the ballpark. I have been having a blast reading the messages of excitement from the RPG players who feel neglected over the years."
The first Wasteland was the inspiration for the Fallout series. It took place in the American Southwest in the wake of a nuclear war between the United States and Soviet Union. Players take on the role of Desert Rangers patrolling the desert. It featured strategy-oriented combat, a storyline influenced by player decisions, and a persistent world.
Wasteland 2's enormous success on Kickstarter has led inXile to launch an initiative called "Kicking it Forward." They pledge to put 5% of the profits from the finished game into other Kickstarter projects. They're encouraging other developers to do the same.
"My involvement will be to create the badge and set up a site that displays which projects agree to "Kicking it Forward" and which projects were supported through this program. Then, after that, it needs to take on its own life. After all, I need to make sure Wasteland 2 meets everyone's expectations," said inXile's Brian Fargo on the Kicking It Forward website.
Wasteland 2 is expected to be released in October 2013. If you want to donate money toward the game, head here.
Staff Writer at CinemaBlend.
Your Daily Blend of Entertainment News
Thank you for signing up to CinemaBlend. You will receive a verification email shortly.
There was a problem. Please refresh the page and try again.