Wasteland 2 Now Available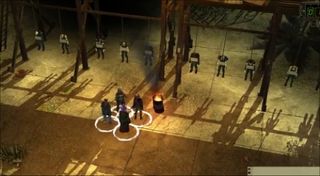 InXile Entertainment has gone and done it; they've finished Wasteland 2. After two years of development, nearly $3 million in crowd-sourced funding, and having to go through the Early Access phase, the isometric, post-apocalyptic RPG has finally finished the development gauntlet and is now available to the general public.
The news comes courtesy of the game's appearance on the front of the Steam store, along with a nifty little update over on the official Kickstarter page, where the founder of inXile Entertainment let's loose a heartfelt "thank you" to the gaming audience for making Wasteland 2 possible, writing...
Wasteland 2 was actually one of the rare games that stayed under-budget and it meant that the team was afforded the ability to delay the game in order to make it better. Amazing right?
The isometric role-playing game is a throwback to the classics like Fallout 2 and Jagged Alliance. Players will have a number of rangers under their command as they venture throughout the hostile and unforgiving wasteland, helping those who stand in need of it and dispensing justice to those who live without it.
You can check out the launch trailer for the game below to get an idea of what lies in store for those who dare enter the wasteland.
I love how in the trailer the accolades aren't from those who have abandoned their audience and labeled them as "dead", but instead Fargo and crew collected quotes from the people in the industry that actually matter: game developers.
The collection of positive "press" from the people who make games goes hand-in-hand with the people who helped fund the game in the first place, with inXile wisely removing the publisher and "games journalist" from the fold.
Nevertheless, Wasteland 2 is already becoming one of Steam's top sellers, so we'll see how long it'll be able to stay on top of the charts as a fully-released game.
I don't know if this is the sort of title that will garner much of a following in the new-wave media scene, but it definitely has sleeper hit written all over it. It's also a nice addition to the growing library of games that explore multiple choices, perma-death and morally gray quest-lines.
You can grab Wasteland 2 right now from participating digital distributors for $39.99. Need more info? Feel free to pay a visit to the game's official website.
Staff Writer at CinemaBlend.
Your Daily Blend of Entertainment News
Thank you for signing up to CinemaBlend. You will receive a verification email shortly.
There was a problem. Please refresh the page and try again.