Watch A Blind Gamer Finally Beat Legend Of Zelda: Ocarina Of Time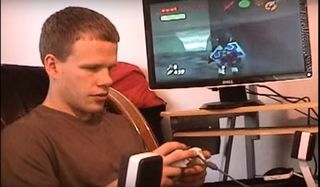 If you remember Legend Of Zelda: Ocarina Of Time, you might remember Zelda's Lullaby that Impa taught Link, the wonderful predictability of the gameplay or the sudden transition into the 3D world of Hyrule. For one player, he's battled Legend Of Zelda: Ocarina Of Time for five years, and he's done it completely blind. He explains how he finally beat the game in the video below.
YouTuber, Terry Garrett (MegaTgarrett on YouTube), started his Legend Of Zelda: Ocarina of Time adventure on May 8, 2011. According to Eurogamer, Garrett finally beat the Nintendo classic, chronicling his adventure in a video series on YouTube. He explains that in order to beat the game, he focuses on the in-game sound effects to direct him where he needs to go. This also helps him locate enemies. Terry Garrett explains that he places two speakers in front of him, one on the left and one on the right, to help in determining the locations of the sounds in-game. The internet has applauded Terry Garrett on his feat.
Another Twitter user commented on Garrett's incredible journey through Legend Of Zelda: Ocarina Of Time.
Legend Of Zelda: Ocarina Of Time isn't the only game he's completed, though. Garrett has successfully completed games like Oddworld: New N' Tasty and Guitar Hero III: Legends Of Rock. Check out the video below where he beats the final Ocarina Of Time boss, Ganon.
Terry Garrett wrote in the video's description, "It has been long in the making, but I have finally accomplished my goal! Who knows what is next! Thanks for all those who have stuck with me through this series even after it seemed like I was giving up."
Your Daily Blend of Entertainment News
Thank you for signing up to CinemaBlend. You will receive a verification email shortly.
There was a problem. Please refresh the page and try again.