Weekly Recap: Deus Ex Mankind Divided And 6 More Surprising Stories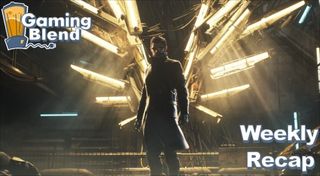 If you're one of those people that gets exited about video-game-related announcements, this week was probably hard on your blood pressure. Square Enix and Eidos Montreal gave us a sneak peek at Deus Ex: Mankind Divided, and Five Night's At Freddy's fanboys were surprised when Warner Bros. announced a big-budget film adaption. Not to be outdone, the folks at Activision dropped some Call of Duty: Black Ops 3 teasers, giving gamers a lot to chat about until the game is officially revealed at the end of this month. And a new Final Fantasy game could be coming to the PS4. Plus, several gamers created a quick guide on how to exploit a Bloodborne boss.
These stories and more in the April 11th, 2015 edition of the Gaming Blend's Weekly Recap.
How To Beat Bloodborne's Bosses Easily
If you've been having trouble getting around the bosses in Bloodborne, several players have discovered a handy trick and put together a how-to guide. Well, it's actually more of a bug exploit than an actual guide. The exploit enables gamers to circumvent the attacks of a boss named Logarius, turning him into a "senile old man." Now, you can easily preserve your items and take down one of the more difficult bosses without having to spend a lot of time battling. Use the exploit now, though, because it'll eventually get patched... I think.
Destiny's House Of Wolves Dated
Destiny's House of Wolves finally has a solid release date along with some new details. Bungie mentioned previously that one major patch would drop before the next big expansion went live. Well, now that the patch is on its way, gamers are excited to finally get their hands on the House of Wolves update. The newest patch will add a few new audio/visual trinkets and fix some of the bugs and glitches that Bungie failed to squash the last time around.
Capcom's Testing A New Ghostbusters Game
That's right, Capcom wants testers for a new Ghostbusters game. But if you want to be part of the testing process, you'll have to complete a rather thorough survey.
So, you're probably curious about the game's details, right? Well, the details are being withheld for now, but they're definitely coming soon. Just for the record, though, this is a mobile title. So, if you're not down with playing games on your mobile phone, you may want to give this one a pass. But if you're really into mobile gaming, click the link above and follow the instructions.
Deus Ex: Mankind Divided Revealed
Eidos Montreal has a brand new Deus Ex game in the works called Mankind Divided, and it features the return of Adam "I never asked for this" Jensen. The game definitely includes some new features, and it sports some enhanced stealth. Plus, it has an all new story, centering around the division of transhumanism and several groups that are attempting to protect the rights of transhumans (hence "mankind divided"). The game is still a ways off, but we do know it's coming to Steam, and it's a safe bet that it'll arrive for Microsoft's Xbox One and Sony's PlayStation 4 down the line.
Five Nights At Freddy's Is Getting A Movie
It was bound to happen. It was inevitable. Freddy Fazbear is getting his own movie. Scott Cawthon from Scott Games confirmed, along with Warner Bros Entertainment, that a Five Nights at Freddy's horror movie is in the works. The storyline and cast are completely up in the air, and we won't know exactly what it'll be about until the script is finalized. I think most people are probably just excited (or shocked) that Freddy Fazbear is finally taking his pop-out-and-scare tactics from the computer screen to the silver screen. The only question now is whether or not there will be a Five Nights at Freddy's game based on the movie that's based on the game.
Call of Duty: Black Ops III Announced
Not only did Activision and Treyarch announce a new Call of Duty title, but they also revealed a few details about the zombie modes. There is, however, a drawback to the news: it's not the main announcement. Activision only announced that the official announcement was coming on April 26th. Still, gamers were pretty stoked to find out that Call of Duty: Black Ops III was inbound and that Treyarch was still at the helm.
Dissidia Final Fantasy Could Come To PS4
Dissidia Final Fantasy doesn't get a lot of loving. It's basically an action-oriented version of the popular Final Fantasy franchise, but it focuses more on the fighting and combat than team micromanagement and narrative. Well, Square is working on a new Dissidia game, and it could could appear on the PlayStation 4. Details on the news are sketchy, but it looks like the Japanese arcade game is gearing up to make its debut on Sony's eighth-gen console. That's something worth cheering over... if it turns out to be true.
Staff Writer at CinemaBlend.
Your Daily Blend of Entertainment News
Thank you for signing up to CinemaBlend. You will receive a verification email shortly.
There was a problem. Please refresh the page and try again.