Five Nights At Freddy's Is Being Turned Into A Horror Movie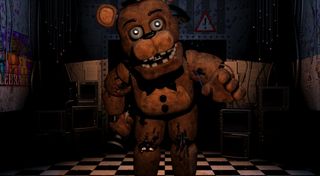 One of the most popular horror games in recent times hasn't been Resident Evil or The Evil Within or any other big name horror franchise you might be familiar with. No, instead one of the most popular horror titles is an indie trilogy about a killer animatronic bear and his comrades, and it's being turned into a movie.
The name of the game? Five Nights at Freddy's. According to The Hollywood Rerporter, the horror series is making the leap from the digital screen to the silver screen.
Warner Bros Entertainment has stepped in to nab the rights to production and they already have several big name producers on board, including Roy Lee from Vertigo Entertainment, and the one responsible for movies like Run All Night, Oldboy, Bates Motel and the upcoming Death Note movie (amongst others). Seth Grahame-Smith and David Katzenberg from KatzSmith Productions – the studio responsible for several upcoming projects such as Beetlejuice and Stephen King's It – are also on board, giving Freddy Fazbear fighting chance with a decent set of producers who know their way around Hollywood's ropes.
Seth Grahame-Smith told THR that they're looking forward to making "an insane, terrifying and weirdly adorable movie." The words "weirdly adorable" make me question what sort of movie this is going to be. A kid's flick with a PG rating? A horror comedy with a PG-13 rating? It can't be R... could it?
It's a weird predicament because Five Nights at Freddy's is a terrifying game for young kids and adults alike (although, not so much for senior citizens). The charm comes from the game's oddball story of players taking on the role of a security night watchman at a local Freddy Fazbear Pizza Parlor. The objective of the game is to simply last five nights. That's it. However, things turn sour (for the player) when the animatronic puppets, lead by Freddy Fazbear, come to life at night and start terrorizing the night watchman. There's a trilogy of games available right now and they've become slightly more sinister as time has gone on, introducing new animatronic puppets and more ways for players to combat them.
The unique setup of Five Nights at Freddy's is what makes it so intriguing because I'm sure a lot of kids are as afraid of singing, dancing animatronic puppets as they are clowns. The game's strange lore and massive interest from gamers who constantly keep coming back for more has made Five Nights at Freddy's a brand force to be reckoned with.
Creator of the trilogy, Scott Cawthon, chimed in about the game being turned into a movie, saying...
According to the Hollywood Reporter the project has already been sent out to writers. How soon will we see Freddy Fazbear and friends ripping it up on the big screen? It's hard to say, but it sounds like Hollywood is moving fast to get Five Nights at Freddy's up and out to theaters as fast as possible.
Your Daily Blend of Entertainment News
Staff Writer at CinemaBlend.