This Is What A $1350 GameCube Looks Like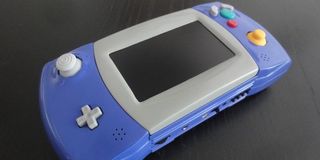 A gamer in the Netherlands decided to make a portable GameCube using parts from another discontinued game system. The result is much better than you'd expect.
The body of the portable GameCube is from an Atari Lynx. The Lynx was Atari's ill-fated attempt to enter the handheld gaming market. It was released in the same year as the GameBoy, which swiftly dominated the market.
One of the reasons the Lynx didn't catch on was its long, bulky frame. The size of the chassis made it ideal for a portable GameCube, though. The creator was able to fit all of the innards from the GC inside. The handheld also features the original controls from the GameCube as well. Here are all the technical details:
Case made out of an Atari Lynx 2 console, shape preserved as much as possible
Retro GameCube blue/purple look paint job with glossy finish
GameCube pal motherboard inside
Very silent IBM fan, heavily modified for optimal airflow
All original Nintendo controls and sticks
Full analog trigger (L and R buttons)
4.3 Inch widescreen VGA Screen 480 x 272 Resolution
Original Nintendo Component video chip wired to produce VGA out
Shielded Composite video wire to reduce interference.
Wiikey Fusion modchip flashed with Swiss Autoboot firmware
6400 mAH batteries, 3 hours gameplay
Battery Indicator with 5 leds to see how much power is left
128 MB Memorycard soldered directly onto the motherboard (GameCube slot-A)
SD Gecko adapter to run homebrew and emulators through Swiss (GameCube slot-B)
Stereo sound speakers, Used 2x iPhone 4 speakers for very clear sound
Switching Stereo headphone jack
Analog volume control
Video controls to access display menu and switch between AV (composite) and VGA Display
System can play from wall socket while being charged (comes with charger and power adapter
Weight about 700 gram
Size (w) 235mm x (h)114mm x (d)50mm or 9.25"(w) x 4.5"(h) x 2"(d)
Comes with 1 x 64GB SD card for GameCube games (wasp fusion slot) and 1 x 32GB for Homebrew, Games and Emulators (GameCube Slot-B)
The portable GameCube's creator is currently auctioning the device on eBay (opens in new tab). The minimum bid is 1000 euros, or roughly $1,359.65. The immediate buyout price is 1,500 euros or $2,039.48. There have been no bids so far, though a few customers are tracking it.
The price is too high for anyone other than a GameCube fanatic. To be fair to the creator, though, he worked on it over the course of two years. Also, the GameCube/Lynx hybrid looks fantastic. It's exactly what you'd expect a portable GameCube released by Nintendo to look like. Also, judging from the making-of video below, it runs GC games pretty well.
Your Daily Blend of Entertainment News
Staff Writer at CinemaBlend.
Your Daily Blend of Entertainment News
Thank you for signing up to CinemaBlend. You will receive a verification email shortly.
There was a problem. Please refresh the page and try again.