What Is Hitman: Profession?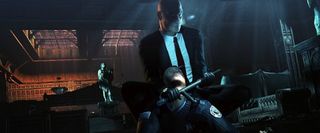 Square Enix may be on the verge of announcing another entry in the assassination series Hitman. Late last week, the European wing of the publisher filed a trademark application for Hitman: Profession, presumably the title of this upcoming game.
Profession, huh? It's a pretty bland title. It seems hard to make a title with the word "Hitman" in it sound boring but they pulled it off. However, to be fair, we're (probably) talking about a new Hitman game. They could call it Hitman Awkwardly Shops For His Girlfriend At Victoria's Secret and I'd still want to play it.
The title doesn't tell us much about the game itself. It's a Hitman game, though, so that tells you plenty already. You'll get to run around strangling people with piano wire or blowing them away with matching pistols. A good time will be had by all.
In late November, Square Enix announced that they'll be opening a new studio in Montreal. Square Enix Montreal's first project was said to be a new Hitman game, developed in collaboration with series creators IO Interactive. Presumably Hitman Profession is that collaboration.
IO is already working on a Hitman, called Hitman: Absolution. It's due sometime in 2012. Square Enix must be confident that this game will do well if they're already planning the sequel. As Siliconera notes, they consider Hitman one of their ten core franchises.
Companies sometimes announce games shortly after trademarking their titles but that's not always the case. Square might be simply grabbing a potential title while they plan development. I suppose there's a possibility, then, that the game will end up with a more exciting title.
Staff Writer at CinemaBlend.
Your Daily Blend of Entertainment News
Thank you for signing up to CinemaBlend. You will receive a verification email shortly.
There was a problem. Please refresh the page and try again.