Why Nintendo Will Only Have One Game At E3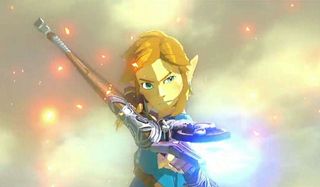 While Nintendo has confirmed that they will make an appearance at E3 2016, they've also announced that said appearance will have a laser focus, as the only game they're bringing to the show will be the new Legend of Zelda.
This news comes to us from a statement sent out by Nintendo this morning, which explains that they plan on giving the new Zelda game E3's full attention.
According to the statement, the Wii U version of the new Legend of Zelda game will be playable for the first time on the E3 showroom floor this June. Unfortunately, it's also noted that this will be the only game playable in the Nintendo booth this year in order to "provide attendees a complete immersion."
The statement promises that additional plans for Nintendo's E3 presence will be revealed at a later time. However, the publisher has confirmed that, along with the Wii U version of the new Zelda game, there will also be a version launching with the new console, the Nintendo NX, next year. That early 2017 window is also when Zelda is slated to arrive.
This is a pretty big departure from the Nintendo norm at E3, where their booth is usually full of different game displays for their home and portable consoles. It's important, though, that we not make too many assumptions based on this morning's statement. For instance, Nintendo has announced that the new Zelda game will be their only playable title at E3, but that doesn't mean that they won't have displays and video footage running of other titles.
Also, whether or not they plan to have a press conference is unclear, but it's more likely they'll follow the trend set in recent years and have a Nintendo Direct video launched during E3 instead. During that time, we'd be surprised if they didn't talk about other games, DLC plans and the like.
Either way, this seems like a huge gamble on Nintendo's part, as banking all of their attention on a game that doesn't come out for another year can be pretty risky. Also, with a 2017 launch window, that means both the NX and this new Zelda game will miss out on the all-important holiday shopping window.
However, the fall is already looking packed for AAA games on other platforms and that's also when Sony will be launching its VR headset. There's also the possibility of new Xbox and PlayStation models popping up this fall/winter, so maybe Nintendo just wants to distance itself from the competition.
Still with only one game to get our hands on at the show, we've got to imagine that's going to cut into the amount of buzz Nintendo gets surrounding E3 2016. Here's hoping they can weather the next year.
Staff Writer for CinemaBlend.
Your Daily Blend of Entertainment News
Thank you for signing up to CinemaBlend. You will receive a verification email shortly.
There was a problem. Please refresh the page and try again.