The Legend Of Zelda: What We Know So Far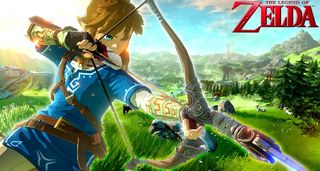 The new Legend Of Zelda for Wii U is being developed by Nintendo and has been teased since its announcement in 2013 during a Nintendo Direct video stream. And, though it's been a long few years, fans are ready for one of the most progressive Legend Of Zelda games to release in the series' history.
It's unknown what game engine it's being created in, but I'm sure it's something like Unreal Engine 4. Nintendo has been pretty tight-lipped on the game, aside from releasing interviews and gameplay videos showing off the new game. We're still waiting on an official release date and more information on in-game characters and story. Here's everything we know about the upcoming Legend Of Zelda game.
The Wait
The Legend Of Zelda was originally supposed to be released in 2015, but the date was pushed back to 2016. The Legend Of Zelda also did not show up at the Electronic Entertainment Expo (E3) in 2015, either, and this was because of claims that it wasn't in a ready state and the developer didn't want to lead fans on by having them think it was almost done. While there is no official release date just yet, developers have confirmed that there will be a 2016 release. As for what season in 2016, it's still unknown.
The Map
Maybe the most important part of this new installment of the Legend Of Zelda series is the map style. The map in the game will be completely open-world, which means the player will be able to walk in any direction and explore. Want to head for the mountains in the distance? Keep walking and you'll eventually reach them. There are many high places in the map, like cliffs, so that the player can get a beautiful view of the world from above. The Legend Of Zelda: Wind Waker kind of introduced an open-world map, but there were still limitations, and Nintendo wanted to go further. So in The Legend Of Zelda, they believe they have achieved the open-world style they were really pressing for.
The map that you will carry around with you will actually be visible on the Wii U game pad. This makes it easy so you can still control the character while walking around with the map.
Epona
As seen from many of the teaser trailers and gameplay videos from the developer, Epona is back and better than ever. Link can choose to walk around the map or simply ride his horse, Epona. Epona automatically steers clear of obstacles so that the player doesn't have to worry about minute annoyances like that; the focus is strictly on the gameplay. Link can do things like jump off of Epona's back and line up a shot at an enemy.
Link
There has been some speculation about whether or not the character in the teasers is actually Link, or female. Producer Eiji Aonuma shut down those rumors by saying, "You have to show Link when you create a trailer for a Zelda announcement." So, because this is a Legend Of Zelda game, we can safely assume Link will be one of the main playable characters.
Zelda
There has been no video or images of the other protagonist, Princess Zelda. As we get more information, we'll continue to update this section.
Unknown Enemy
In the gameplay trailer in 2014, there was an enemy that was spotted with tentacles and a glowing spot on its head. Beyond that, we don't have any other info on the enemies in-game.
Weapons
At E3 2014, there were two kinds of weapons showcased. More importantly, they were two different types of arrows. One arrow dropped bombs on the enemy while the other arrow transformed into a bird shape to take out the enemy. In the past Zelda games, the weapons ranged from arrows, bombs, hammers, shields and swords. So even though a couple arrows have been revealed doesn't mean that's all that's going to be available in the new game. Hopefully we can expect around the same range of weapons with a serious upgrade, but that's just hoping.
Sailcloth
The Sailcloth is an important piece of Legend Of Zelda history and was sewn by Zelda herself. It was given to Link after he won the Wing Ceremony. Luckily, we see Link using the Sailcloth in the gameplay trailer, confirming that it will be of great use in this new installment. Aonuma has noted that there will be a lot of high cliffs overlooking the map, so it will be nice to just jump off a cliff and be on your merry way.
The Tutorial
In this version of The Legend Of Zelda, producer Eiji Aonuma said in an E3 interview that the tutorial process would be reviewed in this installment. If you aren't familiar with The Legend Of Zelda tutorials, they can be a long pain in the butt, especially if you already know how to play. Tutorials can either be completely necessarily or totally unnecessary in the video game world. But with how long Zelda has been around, it's safe to say long-time fans can be granted access to skip the tutorial. He said in the interview with Kotaku:
So, though it hasn't been totally confirmed, it's safe to say Nintendo will be looking at greatly changing the tutorial process, or shortening it so that players can cut straight to the gameplay.
The Art Style
When you look at The Legend Of Zelda: Wind Waker on the Wii U, it's obvious to see a difference in the art style. Link looks more cartoony, almost like a Super Mario Brother. But in the new installment coming out this year, The Legend Of Zelda is getting another new look, and this time it's a cel shaded art style. This means the art in the game will appear more graphical, kind of like a comic book, but not really. It will be completely different than any other artistic style in a Zelda game.
Multiplayer Mode
It hasn't been confirmed yet, but there is a strong possibility for multiplayer mode in this installment of The Legend Of Zelda. Producer Eiji Aonuma has said on the topic of multiplayer, that it's possible it could be something we see next year. So while multiplayer isn't even close to being a definite for the game, what's exciting is that it's not ruled out either.
Wolf Link Amiibo
Alongside the announcement of Amiibo functionality in Legend Of Zelda: Twilight Princess HD game, it was also announced that any data that is saved on the Wolf Link Amiibo would also transfer over to the new Legend Of Zelda game.
The Trailer
The above trailer was the trailer that was released during E3 in 2014. The trailer really shows off the open-world concept that Aonuma has been pushing for in the new Legend Of Zelda game. What we can see in this trailer is Link riding on top of Epona, so it's easy to confirm those two characters for the game, but as for other characters, it's hard to say. For example, we still haven't seen Zelda yet. Near the end of the trailer, we see a fight between Link and some unknown enemy, which is explained in more detail above. Nintendo has made sure to keep very hush-hush about the project when it comes to the little details, but hopefully we can expect to hear more information at this year's E3 2016.
The Gameplay Trailer
A little later in the year during 2014, Nintendo released a gameplay video which showcases not only some view of the open-world map, but also the use of the Wii U gamepad with the game. This is the most recent trailer we've seen so far of The Legend Of Zelda for Wii U. And since then, all has gone quiet. Many are hoping that the silence on content will pass once E3 2016 rolls around and fans are waiting for an abundance of details and information on the game that is supposed to be launching this year.
Nintendo EPD
Nintendo Entertainment Development and Planning is developing The Legend Of Zelda for Wii U and have developed other games, like the upcoming The Legend Of Zelda: Twilight Princess HD and Miitomo. Nintendo is publishing the game and the project is being headed by producer Eiji Aonuma. If you aren't familiar, other Legend Of Zelda games that Nintendo has published are The Legend Of Zelda: Ocarina Of Time and The Legend Of Zelda: Majora's Mask.
Expected Release
The Legend Of Zelda For Wii U has a broad release window of 2016 with little information on what portion of the year and no official release date. But the developer has firmly stated that 2016 will be the year that The Legend Of Zelda for Wii U will be available.
Recently, we gained information that the new Legend Of Zelda for Wii U could be releasing alongside Nintendo's newest handheld console this year, the Nintendo NX. The NX is supposed to release this year and new information points to a holiday release alongside the new Legend Of Zelda for Wii U. But this is all just speculation. If Nintendo was smart, they would release both during the holidays so that they could take advantage of the holiday rush. Can you imagine how many Nintendo-obsessed kids would be begging for an NX for Christmas? But nothing as of right now as been officially confirmed. We will probably know more once E3 2016 rolls around.
There have also been rumors of a movie coming out called The Legend Of Zelda: Shadows Of The Past, which is posted on IMDB, but there is no real information on the title — so for now it's all rumor and speculation. For more information, you can check out the wiki for The Legend Of Zelda and stay up to date with updates on the official Legend Of Zelda website.
Your Daily Blend of Entertainment News